Cast: John Abraham, Sonal Sehgal, Girish Karnad, Pratiksha Lonkar, Ashwin Chitale.
Director: Nagesh Kukunoor
My rating: One and Half of Five ( 1.5/5)
My Verdict :
Nagesh Kukunoor is known to make films which talk about the spirit of life. His films IQBAL and DOR had his exceptional touch and beautifully captured the various shades of life and its celebration. AASHAYEIN (Hope) is another attempt by the filmmaker on the same lines. Though he fails miserably.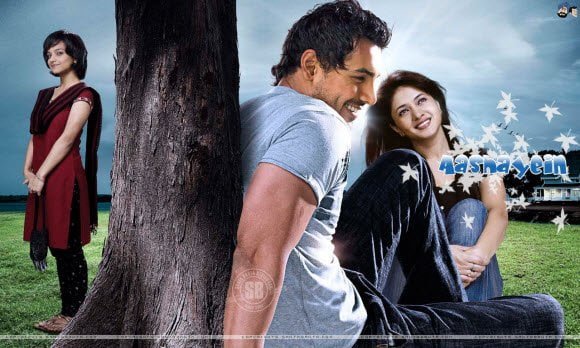 Aashayein Story :
Aashayein begins with a promising track shot taking the audience from an old house to a den of bookies in an old and dilapidated courtyard. The opening shot is so fantastic that it raises your aashayein, only to have them dashed soon after.
The story of a compulsive gambler (we hardly see the obsession with gambling), Aashayein is a confused hotchpotch of many messages, none hard enough to hit you.
Meet the Actors and their Roles
John Abraham as Rahul Sharma – An angry, drop-dead gorgeous, confused, compulsive gambler. Wishes to live the life he has been dreaming of. Sonal Sehgal as Nafisa – Doting, loving, loyal girlfriend. Wishes that love always wins.
Prateeksha Lonkar as Sister Grace – She will bend her principles for the greater good. Wishes to dedicate her life for the happiness of her inmates. Girish Karnad as Parthasarthi – Fun loving, "uncle" to everyone, stupidly stubborn on his principles. Wishes to be reunited with his family.
Farida Jalal as Madhu – Intelligent, virtuous, loving. Wishes to just lead a normal life and not be ostracized.
Ashwin Chitale as Govinda – Ten years old, loves comics, mangoes and tells stories. Wishes that everyone's life be just like a comic book.
Ashwin Chitale is child actor who starred in the Marathi film Shwaas. Anaitha Nair as Padma – She is impetuous, obnoxious, full of life. Wishes to experience love.
The film is devoid of any script and looks like the director (Kukunoor) had so much footage that he used every bit of it in the asha  that some of it will make sense. We do see the good John can do when you manage to look away from the hunk's dimples. In the first half he is an extension of his real-life image, while the second half sees his transformation into an actor.
Towards the end you start doubting his acting skills again. The people he meets in the hospice add colour, both dark and bright, to his journey, which is one about love, hate, life, death and above all, hope.
Aashayein, whose release was delayed by almost two years, is so hopeless that you wish it had remained in the cans forever. Its hard to believe that the film maker who gave path-breaking movies like Hyderabad blues, Rockford and Iqbal has given us Aashayein.