My Verdict :
Well let me start like this, a kid is constantly trying to make a house with sand. Initially he tries a lot but it does not take a shape. Then he makes some progress and it finally starts to look like a house. Then a wave comes and sweeps it all.
That is the case with Anjaana Anjaani. Director Siddharth Raj Anand tries to do a lot in the first half but it never works. He takes a simple story and in some kind of a fascination to make it extra-ordinary and leaves it just as an ordinary film.
The Storyline :
Anjaana Anjaani is a weird story about two individuals Akash (Ranbir) and Kiara (Priyanka) who continuously try to commit suicide and God knows why, they never succeed. Until one day when they decide to live life for 20 days and do the stuff they want to do before they die. They go all over the place, trying to pick up girls for Akash who is still a virgin. They go swimming in the middle of the Atlantic Ocean which is just so stupid because Akash sets out to commit suicide in the first place because he was bankrupt. Suddenly he transforms into a spendthrift with branded clothes and accessories.
Kiara wants to commit suicide because his fiancée Kunal (Zayed Khan) cheats on him with a firang from L.A. They go on a road trip to Las Vegas in Kiara's 'khatara' car "BLUSH". Ranbir runs into a gay who almost rapes him. Both Akash and Kiara gamble and win and finally start to feel for each other. Then when it was all going right Kiara suddenly realizes that she misses Kunal and Akash like a 'true lover' advices her to go back to him.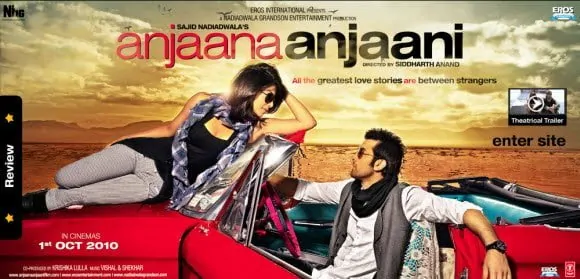 But, she is not the old Kiara and soon realizes that Akash is her love. So she rushes to New York where they had decided to commit suicide on the eve of New Year. They find each other, and live happily ever after.
Seriously who was Siddhath Raj Anand trying to fool? This is what we have seen in scores of movies before and that too, in movies that have been pretty good like very recently in 'Jab We Met'. The movie is stale food in old packing. There is nothing novel or spectacular about the movie. A few comic sequences are good though.
Performances of the Actors and Actresses
Ranbir is good in the film. He is soon turning into the Star that will be the future of Bollywood. Priyanka is childish in the first half but as her character matures, she turns into this delightful performer. 'Especially after her 5th suicide attempt'. There is nothing majorly wrong with the acting; it's the script and the direction that lets the movie down. The Cinematography is awesome. Ravi K Chandran shows why he is such a revered Cinematographer. The keen eye he has for the spectacular locations is awesome.
Anjaana Anjaani Music Review
The music of the movie is why i have decided to give it 2.5 stars rather than 1.5. Vishal-Shekhar have proved once again that they are one of the best and the most consistent composers of modern times. All the songs are good. But 'Tu naa jaane', 'Hairat' and 'Tujhe Bhula Diya' are simply mind-blowing. One of the best music score of this year.
All in all, 'Anjaana Anjaani' is just another movie that revolves around the story that has been told several times in Hindi Cinema and adds no extra value to it. So if you have nothing better to do this weekend, as it is a dry day go and watch 'Anjaana Anjaani'. But, there are much better things to do in life, isn't it.