Delhi Government is going to take another Green step, Battery operated, Pollution free, luxurious auto rickshaws are to be soon launched in Delhi.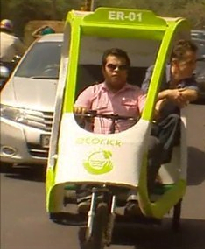 In the first phase 10 such auto rickshaws named as E-Rick will be introduced to commuters in Delhi, and later 4,000 such rickshaws can be seen on Delhi roads.
Here is the list of Facts, which can help you understand E-Rick  –
E-Rick, will be battery operated luxurious auto-rickshaws which will be pollution-free with a digitally-controlled electric propelling system.
Capital will witness at least 4,000 such rickshaws at all the historical places and main markets like Alaknanda shopping complex, Green Park, AIIMS, Chandani Chowk, Lajpat Nagar, Defence Colony, New Friends Colony, Rajauri Garden, Janakpuri and Karolbagh, Delhi University, and Laxmi Nagar.
Later this will be also extended to Domestic and International airports and Metro Stations in the Capital, thereafter.
10 such auto-rickshaws on an experimental basis will be launched before the Common wealth Games.
E-Rick is also seen as Metro Feeder Service, so as to make the travelling easier and comfy to the Metro Commuters.
E-Rick will be GPS enabled.
E-Rick will have trained drivers, who will be fluent in English and also efficient enough to take the tourists to popular destinations across the city.
A tie-up has been done with a private company, which will recruit the rickshaw drivers on salary basis, and will also provide a medical insurance to them.
The ride on E-Rick would be cheap (expected to be Rs. 10-15).
Senior citizens won't be charged for the E-Rick ride.
E-Rick will run in the Light motor vehicle lane.
Government will collect the revenue generated from the ads on these rickshaws from the company on a per rickshaw basis.
Facilities like LCD may be included in these Rickshaws at later stage, depending upon the level of popularity of the E-Rick.
You can have a look at E-Rick in the video here.
According to me, the concept sounds great in all respect, it's a Green option, commuting will be simpler as a combo of Metro and E-Rick, Fare is pretty reasonable.
So, after the Gurgaon-Delhi Metro connectivity, E-Rick is something one will try to grab during the next visit to Delhi, isn't it? And may be it should be started in Mumbai where the fare hike is already a pain for the people.
Article composed on the basis of several resources reporting about the E-Rick.