Remember Amitabh Bachchan in Yaarana (1981), performing to the tunes of 'Saraa Zamaana. Haseeno Ka Deewana.',  with small light bulbs all around his dress. Yes, those were light bulbs, LEDs were not in trend at that time, and Amitabh had a switch of these lights bulbs in his hand, and these bulbs were using live electricity wires. If somehow you too want something of this sort, i.e., lights flashing on your dress, you can get one for you. LED T-shirts are here, they have LEDs, which are battery operated. In this post, we will share from where you can buy Flashing LED T-shirts online.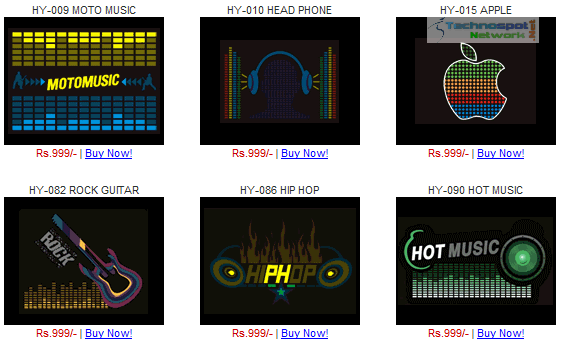 Buy Flashing LED T-shirts online
I tried finding out the resources for it, but could come up only a few resources:
1) Tshirt.in
They offer LED t-shirts which not only glow light according to sound but also changes the light.
The LED  panel size is a maximum of 20 x 15 cm app. It uses AAA batteries 2 to 4. During the wash, you need to remove battery, cable, and panel from Velcro. However, the Electronic components do not have any guarantee/warranty however the working condition is checked before despatch
More at the official website.
2) Cool Mania
If you need to buy an LED T-shirt which can be programmed, then Cool Mania is the place. The t-shirts are tad expensive, but they can be programmed from a smartphone using an application. You can write text which you want to show off. It supports any scrolling message, animation or effects.


The application once paired with the t-shirt allows you to program any text, draw a picture, choose one of the offered animations, or activate a music equalizer. The equalizer will be active based on the capturing of sounds around your smartphone.
Buy Flashing LED T-shirts online from their official website.
3) Mintinthebox
Similar to Tshirts.in, this website also sells fixed design t-shirts which run off AAA batteries. Most of them are priced in between Rs 3000 to Rs 4000.
More at the official website
The below-mentioned resources no more sell LED T-shirts anymore.
XTees
XTees is offering 12 LED T-shirts in their LED T-shirt section, these LEDs flash on the tunes of beats being played around you, imagine yourself in a noisy Discotheque, or you can have a look the videos of these T-shirts on the LED T-shirt category page, and order them online, you can make a selection from 12 available options.
EXCITING LIVES
Another resource to buy a Flashing LED T-shirt, these too flash on the tunes of music around you, here you can find four options.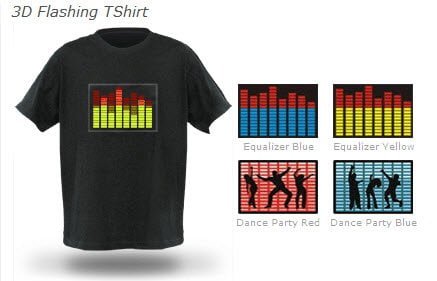 So, go ahead and grab one, if this concept of Flashing LED T-shirts mesmerized you at all.