Airtel lately launched the 3G services for their consumers, in the same series Airtel has come up with an awesome tool, the Internet Usage Calculator, which helps the consumers to take a quick decision easily on the choice of the internet plan before buying it.
You need to visit the official Airtel website to access this tool. First you need to choose the device, i.e. a Laptop, A mobile phone, or a Tablet. Later, It has 8 different types of activities, (like number of emails you send, number of songs downloads, number of software/app download, hours of streaming music and videos, etc.) which are responsible for your data usage.
Now all you need to do is simply drag the tiny buttons, which is the input to the calculator. Specify your usage, to know your monthly data usage, as shown below.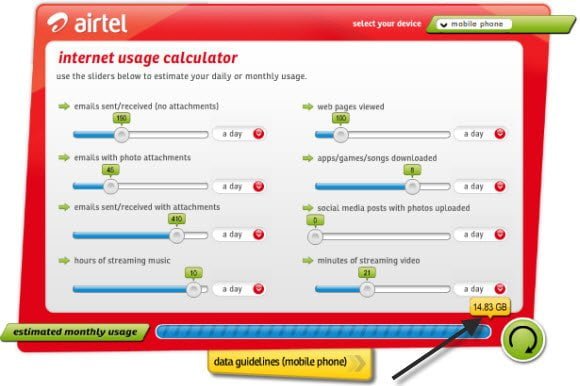 I tried this Internet Usage Calculator, and it seems to be working fine both in terms of functionality and accuracy. So go ahead and before making a choice of Internet Plan to buy, try this free Internet Calculator, so that you don't have to pay more than what you are actually going to use.
Try the Internet Usage Calculator
Thanks Airtel!!