It's very common that we call Cabs when we want to go to airport or any where far in the city but how about getting an Auto at your doorstep on call ? Welcome to the Easy Auto Service @ Karnataka. Easy Auto Service is a call-auto service and is supported by Bangalore Police. With the initial investment of Rs 40 lakh, Padmasree Harish, MD of the Easy Auto first launched the service in 2007 and then again in 2009. Transport Department of Karnataka through the Regional Transport Authority has given licence to the Easy Auto Service.
It's very uncommon service being provided in and around Karnataka. These autos are different from the common autos. At present in total 250 autos run. The number of calls received @ day is around 300. Each auto is equipped with GPS for tracking and there is also LCD panel inside.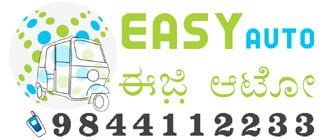 There is call centre maintaining all the calls of the customers.  If you are in need of an auto rickshaw just call or sms 9844112233.The customer care will help you and will take the details from you. The nearest auto is trace by the customer care via GPS. Soon you will be linked to the driver directly and the communication is easier now. You can also register yourself in their site. Once registered, yourself can check the availability of the auto rickshaw.
The charges are also very genuine. The meter starts from Rs 14 and Rs 7 is being charged for every kilometre.  There also few modes of entertainment for you on the way like video, FM Radio, magazines all for free. The MD has planned to soon make newspapers, mineral water and soft drinks available also. But it has not been made clear whether the service will be free or will be charged. This concept is similar to what RickshawMan has

The drivers are also benefited by this new concept. They are trained in behaviour. A fixed remuneration is paid to the driver with Rs 1 Lac insurance coverage of the family member. The team of Easy Auto support to educate the child of the driver. The auto rickshaw costs around Rs 1.7 Lac and the drivers are funded for almost 70 per cent of the amount. Each driver has his ID card and contact number. There are around 250 auto rickshaws at present under Easy Auto Service.
It's a very uncommon service available and heard of. And more astonishing is that a woman is handling a big group of these auto rickshaws. It's a real good concept and helpful to the people at Bangalore. For more details please visit – www.easyauto.in