English to Kannada Dictionary lets you find what an English Word would mean in Kannada? English to Kannada Dictionary is a free android application which enables you to find word meaning of English in Kannada. All you need is to download the app and start learning the meaning of English words in Kannada.
Download Free English to Kannada Dictionary
1) English to Kannada Dictionary App
It is one of the most popular apps in this segment. It features nearly 25,000 English words and their meaning in the Kannada language. You can use the search box to find the desired English word quickly. Then tap on the word to get the meaning in clear Kannada font.
Download from Play Store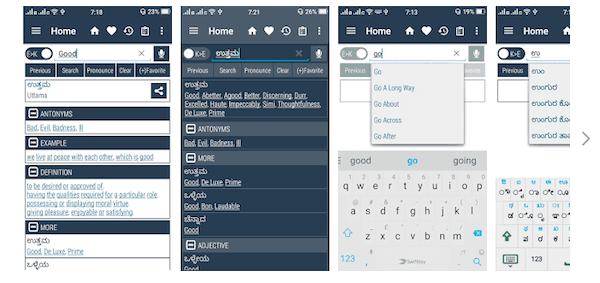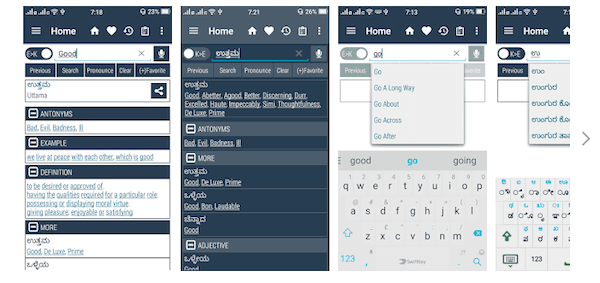 2) English Kannada Dictionary
The app offers Kannada To English, English To Kannada meanings without any internet connection. As you type words will auto-complete, making it easier to find the meaning. If you are confused about any Kannada word, you can use this app to Pronounce & Voice Search. It also offers opposite words, synonyms, word games.
Download from Play Store and second version from here.
I am sure there are many apps available in the Play Store. You can download them, and then try. Keep the app which fulfils all your requirement. You can also use Google translate to convert the words, but then it doesn't work offline.
3) Kannada Kasturi Dictionary (Old)
Kannada Kasturi used to be an Indian Website dedicated to helping people do a Kannada to Kannada to English, English to Kannada, Sanskrit to Kannada. It could also do a Spellcheck using their online version. This dictionary had 50000 words with advantages of Print, managing your version and do an Import and export if you want to share it with others or when you switch computers.
This slideshow requires JavaScript.
However, the website doesn't exist, and we would recommend you to use the Android Application. If you are looking for any other language, find it right here.