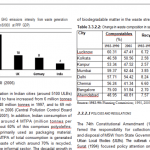 Looks like government has finally decided on how they are going to fight the climate change and sustain the ecosystem in India and there is already a drafted plan open to public at the PM's Site. The document talsk about the following National Mission set for India to fight againts the climate change. 
National Solar Mission
National Mission for Enhanced Energy Efficiency
National Mission on Sustainable Habitat
National Water Mission
National Mission for Sustaining the Himalayan Ecosystem
National Mission for a "Green India"
National Mission for Sustainable Agriculture
National Mission on Strategic Knowledge for Climate Change
The plan has covered major all areas where things can be changed now only if they get implimented properly, India will be greener than ever.