Mobile has become a necessity in our daily life as every one carries a mobile phone including the young children.It is not only the thing that is used to make and receive the calls but its role expand a lot.They serve as a communication tool used to send  and receive messages,  listen to music, surf the internet and even play mobile games.
Mobile company Tata Indicom added one more facility for its mobile users. Now, mobile will also help you in providing emergency medical services.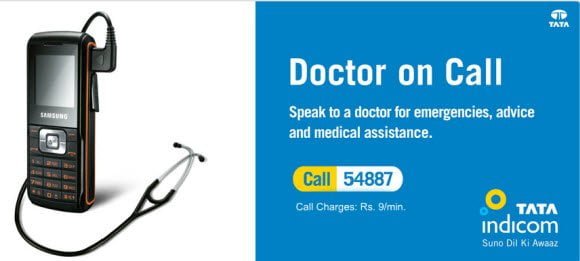 Tata Indicom  launched an emergency service, "doctor on call", in partnership with Rx Healthcare Magic, to offer consultation to all Tata Indicom and Tata Walky subscribers at Rs 9 per minute. However, this  service is based on an interactive voice response system. The doctors would ask the medical history of the caller, including details like age, sex, marital status and location.
How the system will work:
The system will work under three categories–one is acute, another is chronic and the last one is emergency.
Acute condition  is the condition where the doctor ask the problem of the caller and accordingly he suggest some  home remedy to the caller for the immediate relief.
Chronic situation is the situation where the doctor will suggest some preventive measures for the problem.
Emergency situation is the situation where doctor suggest that the patient will rushed in the emergency ward of  the nearest hospital.
So if you are the user of Tata Indicom enjoy the new service.
Share your view with us!