Culture? If one is to define this word, she or he can come with so many words. According to the dictionary, this word refers to a state of logical development or manners-I feel it is all about society, customs, traditions, ethnicity way of life that influence the growth of a human being. Today, we are talking about Ethnic Wear and India.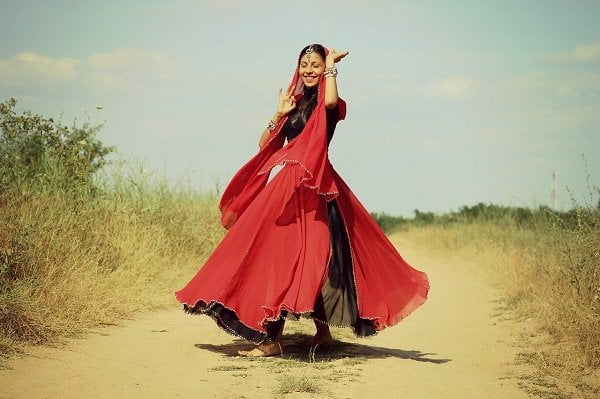 Ethnic Wear, India and Women
Indian culture is rich and diverse and is very inimitable. From the way of communicating with one another, style of clothing, way of eating, and living –everything is an essential component of our culture. Even though we have accepted fresh means of life, enhanced our lifestyle, our values and beliefs remain untouched.
Clothes in Indian culture have a cultural charm and are displayed through simple and flamboyant outfits in India. India is a country that has such a climate that is well adapted to a mixed variety of muslins, cotton, viscose, cotton silk, brocades,silk-all of which have grace and sheen of their own. Attires should suit the county, ambiance as well as the climate.
Sari
The Sari possesses the oldest survival in the human race.  It is the most adaptable drape with its amazing styles of draping and design. It is over 5000 years old to the extent that it is mentioned in the Vedas Fashion changes with time, but the saree is the only thing that has remained unaffected. It is the Sari, which is the traditional dress of India and adapts in terms of materials, drapes, and style with each expanse. A single can be worn in unlimited ways because its length and width-it can be converted into a dhoti, skirt, pleated in any manner, thus giving it another reason for people to prefer it over any other attire.
Designers have also played around with this attire in different drapes and styles. They have brought it on the international ramp as well. Not only Indians, but a lot of foreign nationals are also fond of this attire-Visit, a place like Vrindavan, and you will find maximum foreign nationals wearing the Sari with so much craze. Why the Sari has arrived all these years is because of the people of the countryside. Sari is indeed the most appealing and graceful attire, perfect for any occasion.
Salwar Kameez
It was a common practice in India that young girls wear salwar kameez. But now things have changed with time. Salwar Kameez is one outfit that is worn by maximum women and girls. When women wear the salwar kameez, they usually wear a long piece of cloth measuring 2.5 meters and is called a dupatta. Dupatta, too can we draped in various ways again depending on occasions. It can be simply wrapped around the head or neck, just wrapped on one hand and shoulder or directly on both shoulders. It, too, like the saree adds grace to the entire outfit giving it the total feminine touch. Salwar Kameez in Punjabis is the wedding dress.
The garment was initially limited to the North, but because of its convenience to wear, it has become a modest substitute to a sari. It, too, like the Sari flatters practically anyone and has now become a ubiquitous garment across the nation. By varying the fabric, color, and level of embroidery and decoration, the salwar-kameez can be formal, casual, dressy, or plain; and it can also be made to suit practically all. The most comfortable dress is the salwar kameez that exudes Indianness and is also convenient.
Different types of work like zardozi, sequins,appliqué,maal,mukesh, zari, Kundan,cutdana, beads are used in embellishing the sarees, suits to give it a more substantial look. Apart from these different fabrics, colors, decorations can provide both the Sari and salwar kameez a relaxed, chic, formal look.
Summing everything up, the conventional style of clothing in India varies with age. India has a varied culture in terms of dresses. Women wear ethnic clothes to embellish their looks. Ethnic Wear is immortal and maintains the soul of our culture.