Unless you are using a DTH service like Tata Sky or Airtel you never know what is going to be next movie or which serial is coming when but Indian TV Guide, Whats on Indian TV gets you full detail which is pretty similar to what we see in newspapers everyday.
At Indian Guide you can watch TV Shows online. The shows are live streamed . The listed channels are NDTV, NDTV 24×7, NDTV Profit, Z Business, CNBC TV18, India TV, Z Music, I TV,  M TV, Telangana TV , Z Telugu , HMTV , Z News , Z 24 , A.jyothi  and Mahaa TV.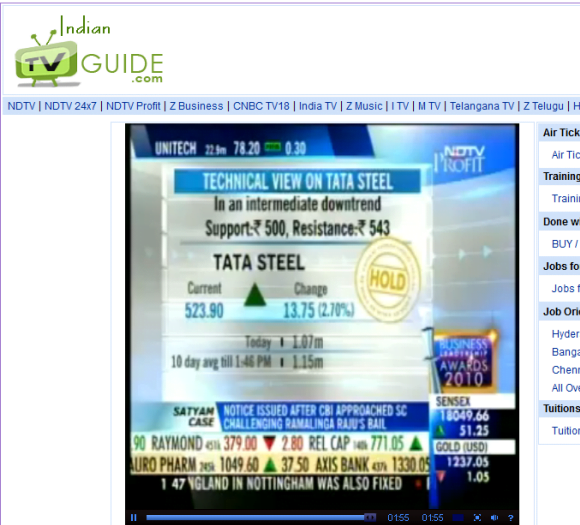 You can find all the channels like CNN IBN, Set Max, ESPN etc.  Now you are not free all the time to come here and see and what if you forget. This service also lets you set reminder for any of the TV Shows which is sent to you via SMS or email whichever is comfortable.
So if you are a housewife who is not much into emails and internet can choose to get reminder on your phone but if you are working emails is your best bet.  You can also set it for any friend or group reminder for all the shows in future. For example below you can see how a reminder is set for the popular show Balika vadhu. You can also see the cast details  and about the serial.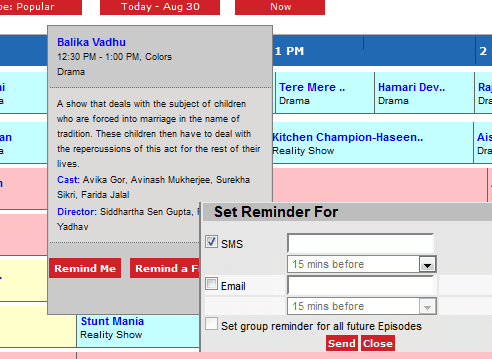 Watching TV on Mobile
You can also watch and track channels and shows right from your mobile.
Min Mobi : It supports over 70 media channels and can be watched using any browser. This is depended on the operator so you will have to get the TV application by selecting the operator once you visit the site from your mobile.
SkyFire :  It has apps for Andorid, Nokia and Windows Mobile.