Tejaswini Sawant, 29 years old, comes from Kolhapur, in the western state of Maharashtra, is the first Indian sportswoman to win the World Shooting Championship, in the 50m Rifle Prone event in Munich, Germany.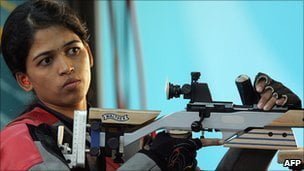 Tejaswini shot a score of 597, which is equal to the world record set by Marina Bobkova of Russia, in the year 1998.
Tejaswini dedicated this award to her late father, and all she says –
"I was not thinking about a medal or a world record," Sawant was quoted by news agency Press Trust of India as saying. "Having got both, I can't even explain how I am feeling right now. It's just amazing."
She also said that, this win has boosted her confidence level for the upcoming Common wealth Games, which are scheduled to be held in New Delhi (India) in October 2010.