If you are in Gurgaon, and somehow you need an Ambulance immediately, here is the phone number which can help you, 6-111-111, that is the number of SRIMS Emergency.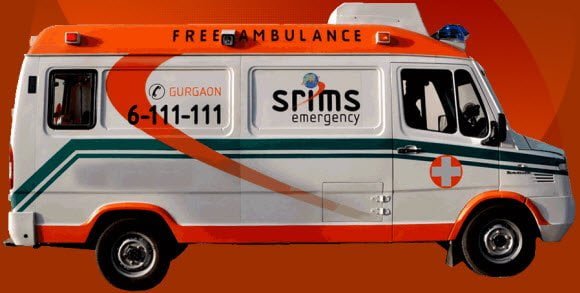 SRIMS Emergency Service Foundation is a non-profit organization – NGO, with a soul aim to provide free life saving emergency medical services.
SRIMS services cover Gurgaon, adjoining highways, and 25 neighboring villages, ambulances are parked in strategic locations across the city and the nearest ambulance is sent to the location as soon as a patient demands for it.
Every SRIMS ambulance is equipped with GPS technology, patient handling equipment, medical equipment, medical consumables, extrication kit, and communication equipment along with a trained Emergency Medical Technician.
SRIMS Emergency works with all major government and private hospitals in Gurgaon, SRIMS generally takes the patients to the nearest hospital, however, in case of a genuine request, they can also take the patient to any specific hospital. Any type of consumption of medicines is totally free for the patients.
If you wish to help SRIMS, either by making donations or through volunteering, you can contact at supporthecause@srims.com. | You can visit the SRIMS online.
If you know of any such service in some other city of India, please help us by leaving the details below (as a comment), so that we can publish a list of such services across India.
Thanks to SRIMS for providing such an useful service, All the best, keep up the good work 🙂