We often come across the scenario when we have to travel in a Taxi or Auto-Rickshaw in India. It could be due to any reason. Maybe your bike or car isn't available, as it is at the service centre, you are on tour of a new city, you live in Pune, you are well aware of the fare rates in Pune. But if you are on a trip to Bangalore, naturally you don't know the rates in Bangalore. It has a significant drawback, and that is, the driver might overcharge you and exploit your unawareness.
Get an approximate estimate of Taxi and Auto-Rickshaw Fare in India
Here is an excellent online tool to help you in such a scenario, 'Taxi Auto Fare' is an online tool which allows you to find a taxi and auto-rickshaw fare between two places within a city.
It has a simple user interface, as shown below. First, you need to select the city, later enter the name of the two places, and once done with this, click on the 'Calculate Fare' button.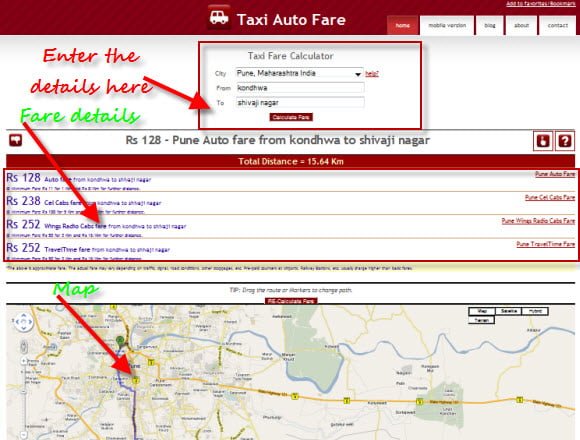 They claim the displayed fares to be 'approximate estimate', naturally as far as they give the fares based upon the locality, it can't be exact.
Overall this looks like an excellent tool. Though the fare isn't exact, at least can save you from being overcharged. If you are asked to pay something which is within the permissible limits of more or fewer Rs. 20 or so, sounds worth. Also, you can get to know about the fare rates via the links in the right panel on the page. It gives you complete results, i.e. what would different taxi vendors in the vicinity, which is a point of attraction.
So, go ahead and share your experiences with this tool. Visit Taxi and Auto Fare
If you are an Android phone user, here is another excellent tool which too has the same aim as that of Taxi and Auto fare.