'Tushina' is a store for kids, which offers you several types of handcrafted stuff, customized especially for your kids. The face behind this store is Tushina Goyal, she has done Fashion Designing diploma from NIFT, Delhi. She started with creating these handcrafted stuff for her daughter, and after getting several awesome reviews about it she took it as a profession, and started 'Tushina'.
Here is a short interview with Tushina Goyal, go through it to know all about the Birth and blooming of 'Tushina' –
What made you start this Business?
Shifting to a new house, I was not able to find things to decor my daughter's room. So I first experimented with a name plate for my 2 year old. I received such rave reviews and orders on the same that I decided to make it a full-fledged business venture. Having been in it for a few months, I can now safely say it was a great decision, as I am extremely pleased on how the business has taken shape, and how well my work has been appreciated, without an exception.
What is the source of inspiration for these designs?
Smile on the face of the owner of each piece.
I follow the below points before creating an artwork –
To make the products ecofriendly using recycled material and handmade paper.
To make each product unique, hand crafted and no two pieces as same.
Customizing each piece with the individuals' name, idea and preference.
Using bright and cheerful colors and imagery.
The business model is geared towards making each one who receives the products feel special. The name plates, for example, bring about a sense of ownership and pride in the child, each time they enter their room, also I would like to mention that we engage underprivileged ladies for this work and try to make them self-sufficient.
Do you create some models for these designs on paper or some computer software (may be an image editor)?
It is a combination of both– Corel Draw and my sketches on paper which produce the final result.
What is the price range for these, do you ship them too, if yes, what payment modes are preferred?
Our prices start from Rs.100-1500 normally.
Fridge magnets – Rs.100
Key holder – Rs.200-300
Photo frames – Rs.100-300
Pen stands – Rs.150
File folder – Rs.300
Name plates – Rs.150-1000
Pin boards – Rs.1000-1500 depending on the size
Wall clocks – Rs.300-1200
We also do handmade name tags by dozens. The prices make the products impulse buys for different gifting purposes. We customize pieces according to individual preference in a very small span of time.
We ship all over India and take the money transfer to bank account once we start with the product. Till now we have shipped outside India working with their Indian counterparts so the mode of payment remains same.
We prefer payment at the starting stage only as the products are all customized with name and cannot be re-used for anyone else.
Do you accept bulk orders, like for Birthday parties and all?
In the span of 1 year of our business we have done some 7-8 Birthday party orders. 5-6 exhibitions and rest has been online sale mainly in the festive season or Rakshabandhan and Diwali for gifting purposes.
Thanks so much Tushina for taking time, and replying our questions.
We here at TSNW wish Tushina all the best, and we appreciate her innovative idea of adding that personal touch, also the idea of engaging underprivileged ladies to help them towards a better living deserves a big round of applause.
Well, here is something more for our readers; TSNW has collaborated with Tushina to host a Giveaway here at Technospot.in, which is open only for Indian Residents. Tushina will be sending a custom built nameplate to the Two Lucky winners, once the winners are announced we will get in touch with the winners to get the address and the name for which the nameplate is to be designed. Winners will be announced on October 23, 2010 October 27, 2010, contest ends at 11:59 PM, October 26, 2010. The photos of the Giveaway Nameplates can be seen below.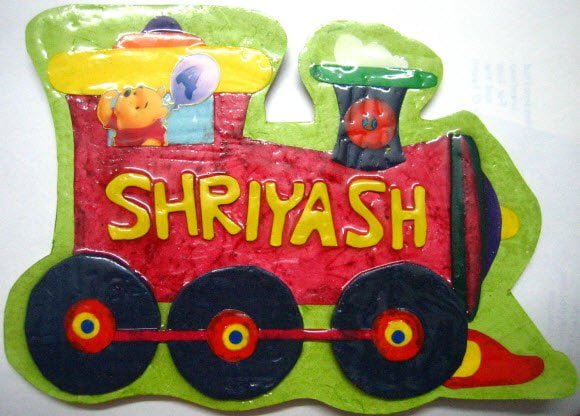 How to Participate in this Giveaway –
Visit Tushina, have a look at her work, and suggest what other interesting characters (that the kids love today) can be used in creating these handcrafted design. Also feel free to suggest anything which you think can appeal kids. You have to post the suggestion in the comments.
Like Tushina on Facebook.
Tweet this Post, using the button below, and post the link of Tweet in your comment. (Optional)
So, go ahead, and participate in this giveaway. All the best!!