Its time Telecom Operators in India get ready to serve their users even better than before because any negligence, unresolved issues, and unheard complaints can now be sent to TRAI directly using the Telecom Consumer Complaints Monitoring System (TCCMS) launched recently. In this post, we will share how you can use the portal to complain against mobile telecom operators.
A few months back, TRAI did warn all the Telecoms to treat the consumers nicely and asked them to let consumer talk directly to the human operator without wasting much time into menus and they had also been working hard to track lost stolen mobile using IMEI number which needs all the operators to help a consumer out.
How to lodge a complaint against Mobile Telecom Operator to TRAI
The portal advises first to launch the complaint with the respective operator and get the complaint id. In case you feel that your issue is not resolved incorrect way, you can use this portal to send details to the TCCMS group, so they can look into it.
Also, there are certain time limits you need to follow for certain type of complaints. For example
Complaints pertaining to fault repair, service disruption and disconnection of service have to be attended within a maximum period of 3 days. Other complaints to be attended by the Complaint Centre within a maximum period of 7 days, subject to time limits laid down in regulations on quality of service. The cases where no time limit is specified, shall be addressed within 3 days.
How to lodge a complaint with TCCMS
1] If you haven't raised a complaint with your Mobile Operator
This portal has done an excellent job in guiding the consumer to the right email address, Web page or even to the telephone numbers, in case the user has not done so far.  Click the link next to "get the details of the complaint center for lodging a complaint with your telecom service provider"
In the next page, you can choose your location, service provider, etc. Once done it will share the exact contact number, and email id where you can raise the complaint.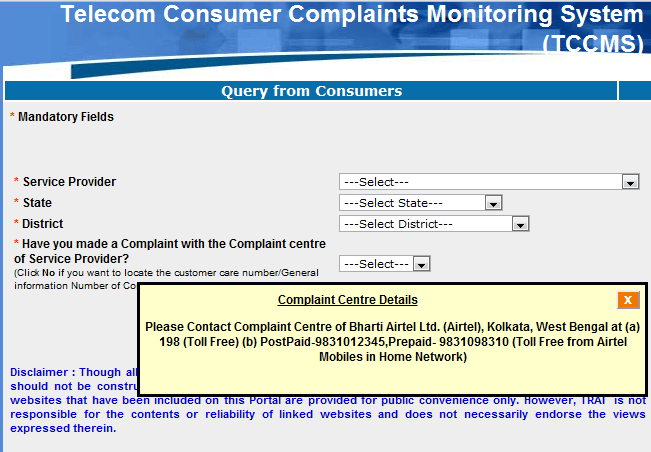 2] Escalating to the Appellate Authority
In case your query is not resolved you can choose no when asked that you have raised the query with the Appellate Authority of the respective telecom. You would get the email id and address, where you can send across all the details.
Remember to include your complaint id when sending out the details so one can get the issue resolved.
3] Time Limit details within which a complaint has to be resolved
For details on this, TCCMS has a PDF file which you refer into. Look for a button on the website which says "Time Limit for Resolution", click to download it.