Good news for people in India who do not want to stand in a long line to apply for their Voter Id Card and get rid of all the paperwork and filling everything manually.  Election Commission of India has now Online Application Process, very similar to Passport Application, where you can apply for voter ID card easily and get a hearing date for the same.
Step 1 : Online Voter Registration
Look for a link on the top navigation menus which says "Online Voter Registration"
This will take you to the login page where you get the option for Online Application, New Registration and Forgot Password.
Click on the New User Registration Link and register yourself using your email id and phone number. You will receive an SMS which will have your User Id (phone number) and password of your account.
Once registration is complete you will be able to sign in.
Step 2 : Filling up Application form
Once you are signed in, click on "Submit new Application for Inclusion, Deletion, Modification in E-Roll"
This will then take you to the next form where you need to select your area where you are supposed to vote. Make sure to ask a couple of people about this, as there is no proper help provided.
You will need to first choose State followed by City and lastly followed by your Assembly. Click on Submit once done.
This will list down a couple of forms,

FORM6 : Application For Inclusion Of Name In Electoral Roll
FORM6A : Application For Inclusion Of NRI Name In Electoral Roll
FORM7 : Application For Objecting or Seeking Deletion Of Name In Electoral Roll
FORM8 : Application For Correction To Particular Entered in In Electoral Roll
FORM8A : Application For Transposition Of Entry in Electoral Roll

For New Application Choose Form 6 which will then open a form as below.  Before start filling the form get all your details ready, and scan of your Passport Size Photo, ID Proof like Passport, Driving License, Pan Card etc. This will be uploading along with the form.
In case you are applying for a new Voter Card, you will need give a scan of previous one along with details of the voter card.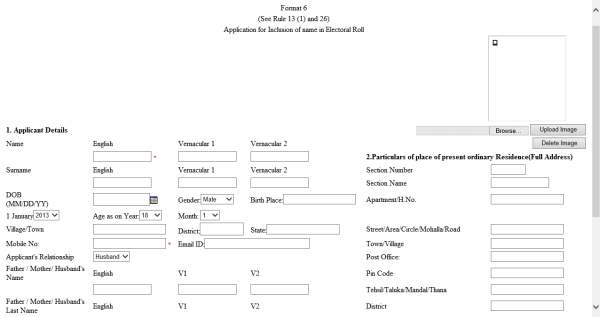 Note  :
Make sure all your images and photos are in .JPG format and the names don't have space in between them. Else even after a successful upload, you will get some access denied error.
All your data is saved even when you hit the upload button.
Once done, Click on submit button, which is at the bottom right corner, and you will get a message from the system which will be on the top left and in this format :
Record Saved Successfully

Your Application ID:XXXX
ERO – SOMENAME,
ERO Correspondence Address: Some Address. "
Mobile No:9XXXXXX
Uploading ID Proof Documents
Click Next and it will take you to the next screen where you will need to upload ID Proof. The list of ID Proof you can upload are :
Rashan Card
Driving License
Passport
Bank Passbook
Others
Once you complete this. Go back to the main page and click on the link which says "My Applications". This will list down all the application forms along with option to view it in a printable format, upload documents, and a column which will tell you a hearing date.

My Current Status :
I am yet to receive an SMS or Details of my hearing date. I will update this post once I get this. If any of you had already done this, please let us know the details on what happens next.