Pearls are costly and taking care of them is you should always do. I talked on How to smartly buy pearl, a real pearl and now below are the tips on keeping them properly.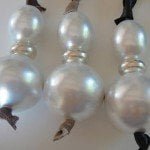 Always wear your pearl ornament after you have finished your make up and perfume as it will help you to keep the pearl clean. Even while applying body lotion or creams do take off your Pearl ring.
If required always wash the pearl only in mild soapy water. But be careful that the water doesn't get into the put holes as it might lead to satin the pearl.
Never store or keep your pearl in air tight container or deposit boxes or plastic bags. Pearls need air to breathe. Always use a soft bag, velvet pouch, or a satin box to store your pearls.  Always try to wear your pearl once in month for more longevity.
Don't wear pearls near areas that sweat frequently, as acids found in body fluid can cause damage to your jewelry.
Wipe the pearl with soft dry cloth after every use. This will help you to maintain its lustre.
Take your pearl necklace to re-string at least once in a year to ensure that the string is strong enough to hold the pearls. Always ensure that the pearls are strung with a knot between each pearl which helps to stop loss of pearls if the string should break.
The above tips have really helped me in my daily life while handling my pearl jewelry. Hope it would help you all. Do share with me if you know some more tips to handle the pearl.