The soaring temperature in Banaras  can get to you, especially if you are traveling during noon.I rembember the day when we went to school in summer  and after school gets over, we were eagerly wait for the gola wala. The gola wala had many flavour,with hundreds of bottles of colourful syrups lining his cart, an ice crusher in the middle and such essentials like gola sticks, glasses and bowls.
Recently, we discovered a new hygiene gola wala called as GOGOLAS  which was  established at the end of August 2008 in Mumbai by Sachin jain. Currently, there are 10 locations running successful  in Mumbai and looking forward to expanding the business in the other states.
Go Gola offers you  varieties of golas  and  enjoying a gola is a multi sensory experience.Gogolas is offering the golas in many  flavour like  Orange, Rose, Kalakhata, Fruits twist, peach, aamsutra, kairy, melon berry, blue legoon.Each golas cost Rs.30. However, they also deal in the occasion of  kitty parties, birthday parties and the wedding parties.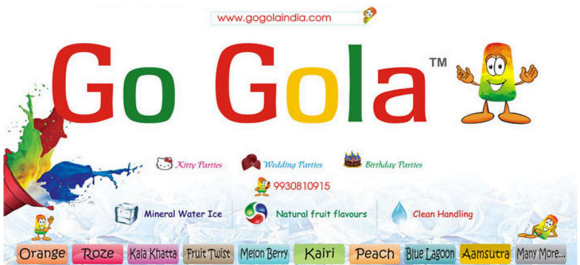 Gogola has the following features:
The water and  ice used in making the golas are from mineral water.
The colour and flavour used in golas are  AAA standard  pure natural fruits syrups.
The persons makes golas are used to wear gloves and has a clean ambience.
Because of the following features, gogolas has  made a impressive  position in the world of Indian food and beverage sector.They maintained high level of hygiene and keeping  attention on the taste and demand of the customers and the golas lovers.
I am crazy for golas, the Indian ice candies.Do you like it?