A very low cost computing device, named as Sakshat was unveiled by the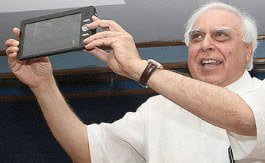 Human Resource Development Minister, Kapil Sibal in Tirupati. The price of the device is $35, and according to Mr. Kapil Sibal the production of this device will hit the market by 2011, and also the attempts will be made to decrease the costing further i.e. somewhere around $20 or so, sounds amazing, Isn't it?
As such the information about the hardware details of this device has not been revealed as of now, however it will have Linux OS, 2 watts power consumption, and 2 GB memory.
The device is expected to offer capabilities like video conferencing, multimedia content viewer, media player, internet browsing, wireless communication, etc.
The development and further attempts to make this device cheaper is being carried out by the premier technology institutions in India.
Sakshat is been seen as a very helpful device especially for students, making it easier to access the online learning resources, and a computing device at such a low price is definitely going to revolutionize the Indian education system.
Image via HT