With the nation going online and an increase in the number of internet users with each passing day, GOI is also leaving no stones unturned in digitizing India. Ministry of Women and Child Development on 2nd June 2015 launched a web portal named Khoya-Paya to exchange information on missing and found children. If you have found a kid who seems to be lost and or know someone who are unable to find their loved ones, you can register here.
Such an interactive platform was long-awaited, which would provide a secure and simple medium to receive and provide information on missing and found children.
Khoya Paya can help you Find Your Missing Child (Government Portal)
There was one more portal named Track Child for the same cause. But, it is a limited portal since only police communicate with the police, and not everybody can take part in it. Khoya-Paya is a portal that removes the constraints of Track Child.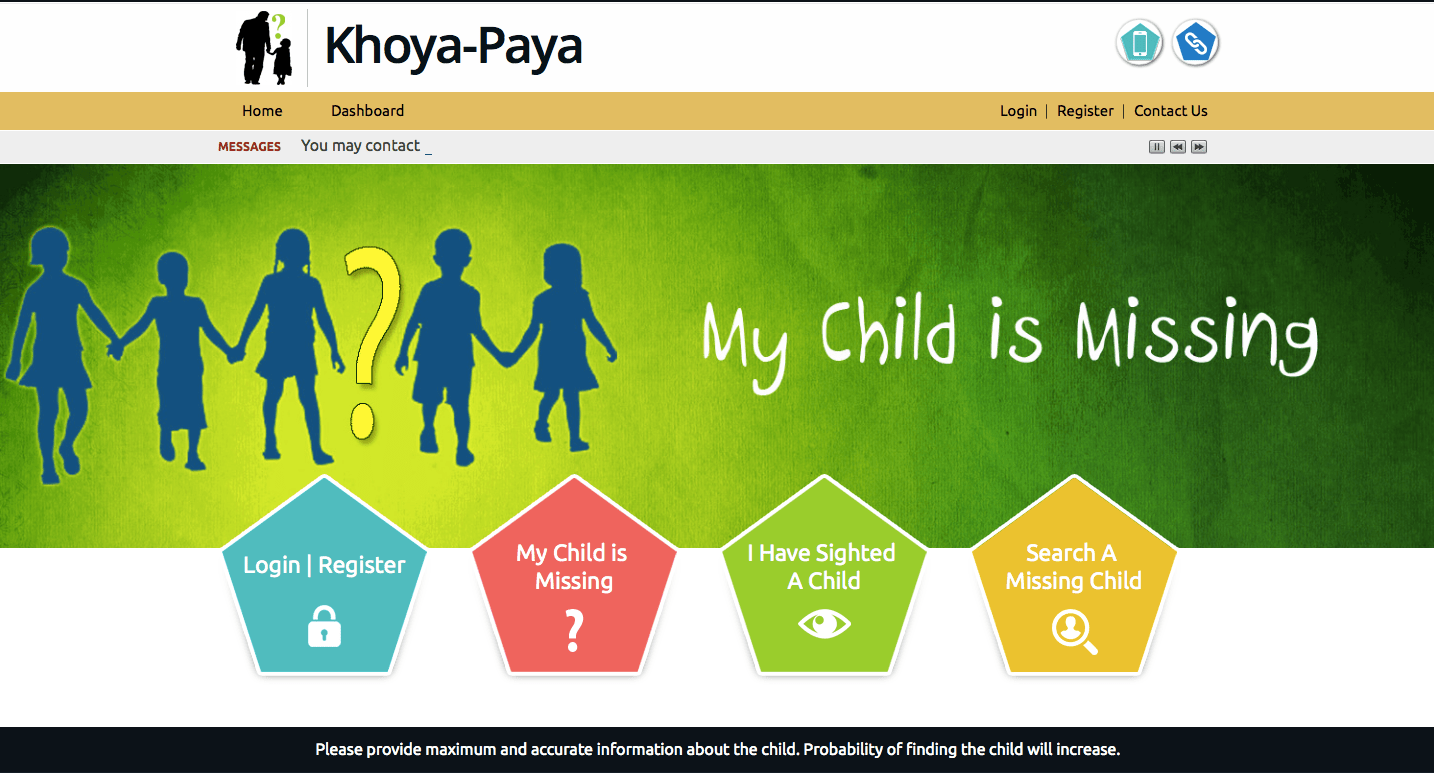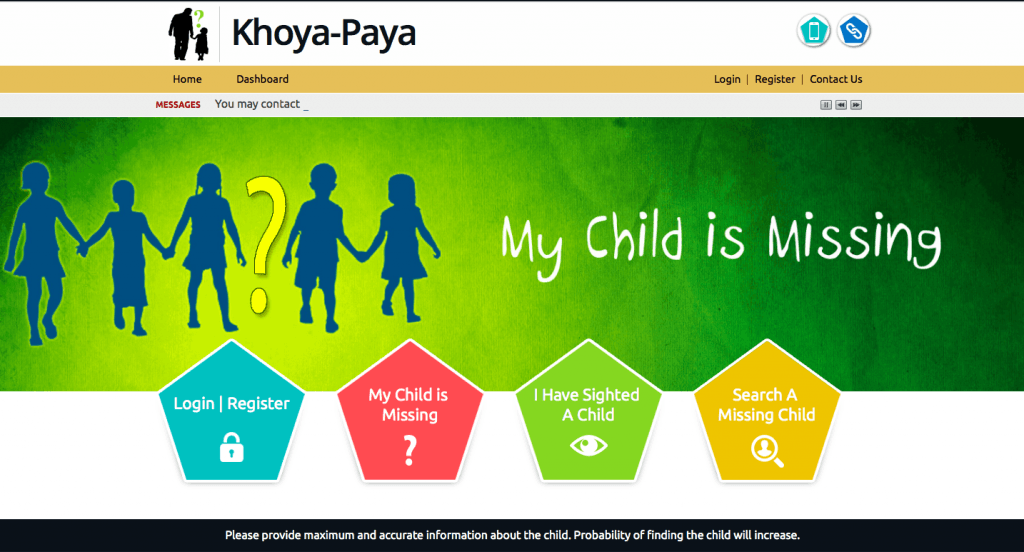 Khoya Paya portal has four options to choose from, as stated below:
Log in/ Register
I have sighted a child
My child is missing
Search a missing child
To use the Khoya-Paya portal, one needs to register on the www.khoyapaya.gov.in first. The information on the missing or found child can be shared through texts, photographs, videos, etc. This information will then be shared on a real-time basis with the police and state authorities who will be investigating the matter.
How to search for a missing child?
Once you register with the website, you can use the advanced search to find any missing kid. You can enter details like Facial Attributes, Physical Attributes along with other information.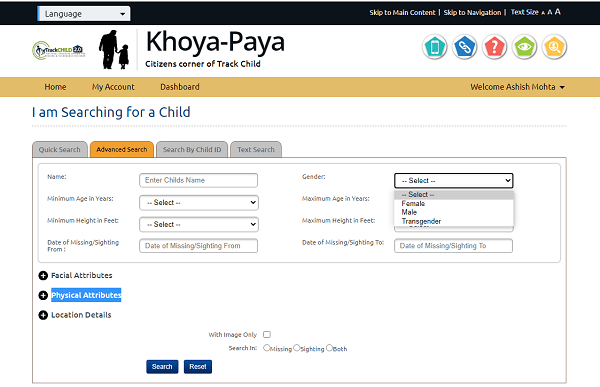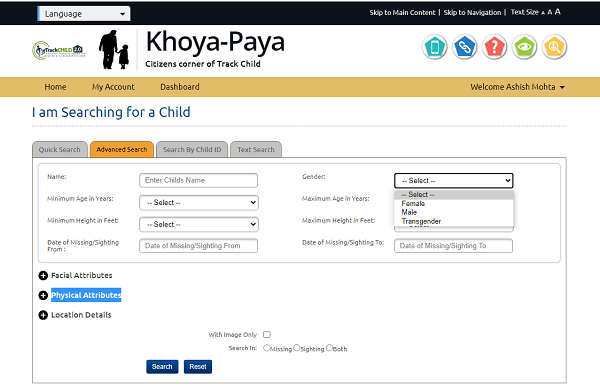 The portal also has a dashboard that has information about the total number of Registered Users (2962 as on 07.08.2015) and the total number of children missing today, total missing, sighted today, and the total no of kids sighted till date.
The most important and commendable thing is that GOI has also included a column for the transgender kids as well.
The portal clearly warns that you must register an FIR as well. In other words, the use of this portal is secondary to the lodging of FIR with the police.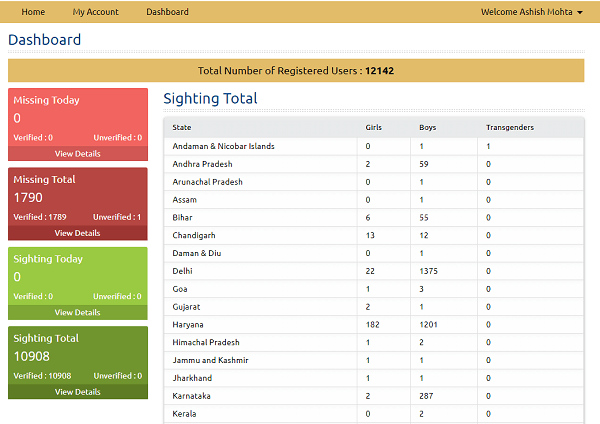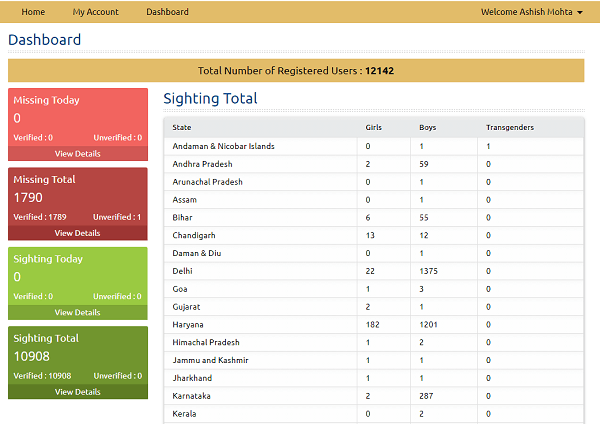 When to use the Khoya-Paya portal?
When a child goes missing, then the parents/ relatives should:
First, dial 100 for police or 1098 for CHILDLINE.
Then, go to the police station and register an FIR.
After that, upload the information of the child on the Khoya-Paya and other similar portals.
You may also upload the information when the child is found.
With Khoya-Paya, portal, the process of finding a missing child can be fast and straightforward. Most importantly, the internet connects us to an unlimited number of persons residing in different corners of the world. So, the probability of finding, locating, or getting any information on missing children becomes very high.
Children are the integral part of our lives. When we can't tolerate even the tiniest of scratch on their bodies, then its unimaginable how those parents survive when their child goes missing. The very thought is traumatic! So, we should congratulate GOI and welcome its move with open arms by spreading more and more awareness about the Khoya-Paya portal and by making use of the portal whenever required.
Editors Note Vishal Mishra submitted this post.