Indian GOI Directory is one of the most planned online sites. It offers Indians to find more about the Indian Government and its available web services to the Government sector. It also runs a unique portal for the benefit of citizens and other stakeholders. It also lists down all the Indian Government Websites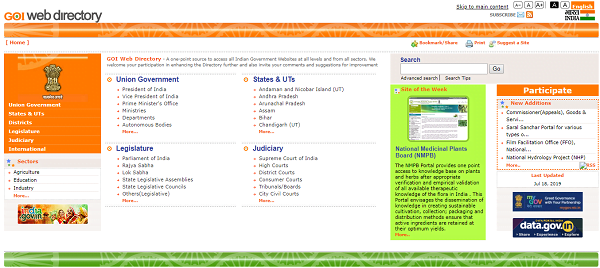 List of Indian Government Websites available online
The parent website provides network backbone and e-Governance support to Central Government, State Governments, UT Administrations, Districts, and other Government bodies. The eye-catching part was the list of useful portals which anybody can use. They are:
1] GOI Directory: This is the right place if you are looking forward to finding all the websites of the Indian Government at all levels. It includes links to President of India, Prime Minister's office, Legislatures, Judiciary, Organizations, etc.
2] Districts of India: If you are interested to know more on any of the districts, it is the place. Find information about the size of the districts, Deputy Commissioner, ongoing activities and proposals, etc.
3] Agriculture Market Network: This place is perfect if you are interested in Agriculture or mandi market of India. It lists all the pricing of the commodity products with details on wholesale markets, contract farming, grades, and standards, etc.
4] Results:  This site is specifically for the announcement of Exam results, which comes under government. You can find the latest CA results and school examination results over here.  This part of NIC is very well developed in terms of features. You can even avail notification or alerts on SMS, Phone, or Email. You can register at this place and then follow-up with the latest announcements made.
5] Business: Planning to start a business in India? Then this is the right place to get all the information on it. They had talked on How to register a company, an employer, apply for a TAN card, and even filing income tax. You can also find information about the latest business statistics and what's is happening in Business world of India. Remember, this place is just a knowledge base and not place to register your business.  It can help you be more aware of how government and business Indian work out together.
There is also a dedicated portal where you a complaint about problems with the Indian government.
So if you are looking for more inside about Indian government and Indian aspects of business, education, laws, etc., Indian Image is an excellent place to start.