Education has become one of the essential things in any one's life. It is necessary to create an awareness of people responsibilities and willing to contribute to the growth of the nation and as well as well being of society. The development and growth of a country depending on the citizens of that country. If the people of the country will literate and educated, the state will progress. India celebrates 11th November as National Education Day!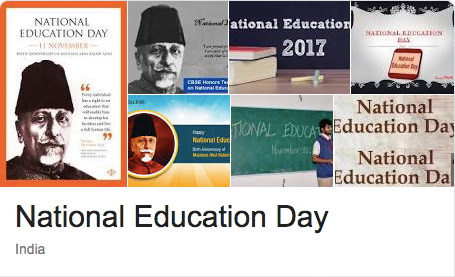 India is celebrating 11th November as the National Education Day
Why is education day celebrated on the 11th of November?
11th November, the birth anniversary of Maulana Abul Kalam Azad, a great freedom fighter as the National Education Day. He was first education minister of independent India, who served from 15 August 1947 until 2 February 1958.
The Ministry of Human Resource Development had on September 11, 2008, announced:
The Ministry has decided to commemorate the birthday of this great son of India by recalling his contribution to the cause of education in India. November 11 every year, from 2008 onwards, will be celebrated as the National Education Day, without declaring it a holiday.
Activities during the celebration of National education day
Educational institutions at all levels across the country will celebrate November 11 as the 'National Education Day' in 2019. It should be done through seminars, symposia, essay-writing, elocution competitions, workshops and rallies with banner cards and slogans. They all should be done towards the importance of literacy and the nation's commitment to all aspects of education.
The objective of celebrating National education day
The purpose of celebrating National Education Day should be to strengthen our educational institutions. It is to remind us to keep raising the quality of education to greater heights. It should be an occasion to remember Maulana Azad's contribution majorly for two reasons. First, in laying the foundations of the education system in an independent India. Second, to evaluate our current performance in this field. So on this day, all people who are involved in the field of education should come together to seek ways to advance India's prestige in the world, as a knowledge society and to focus on how to educate our people.