Kolkata Metro Expansion plan was first announced in 2010 to connect Saltake and Howrah. The project had a lot of hurdles including building up a long stretch of the underground railway, especially one that will be under river Hooghly. After a decade, part of this has been achieved, and Saltlake Sector V to Saltlake Stadium connection has started serving the people of Kolkata. Find out details of Kolkata East-West Metro Route, Plans and Expansion
Kolkata East-West Metro Route
The total distance of Kolkata East metro is 16.6 km. Phase 1 includes plans for 5.8 Km which is the elevated section and 3.6 Km underground stretch. The Elevated part runs between Sector Five to Salt Lake Stadium. The underground section in Phase 1 has only two stations which include Phoolbagan and Sealdah.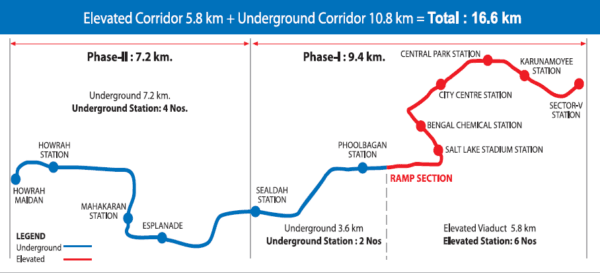 Stations covered in the elevated section includes Sector Five, Karunamoyee, Central Park, City Center, Bengal Chemical, and Salt Lake Stadium.
Phase 2 is of East-West Metro is already in works, and covers a massive stretch of 7.2 Km. It includes Esplanade, Mahakarn (BBD Bag), Howrah Station and Howrah Maidan. Esplanade is going to be the station where commuters will be able to switch between East-West and North-South lines.
Kolkata Metro Expansion Plan
The image below was first published in 2010 which shows how Metro will expand in Kolkata, and what we are seeing now Project 2. There are more Projects for Kolkata Metro. One of the projects will connect Garia to Barasat via Sector Five and Rajarhat.  There are further plans to connect Barackpore, Naopara, and Joka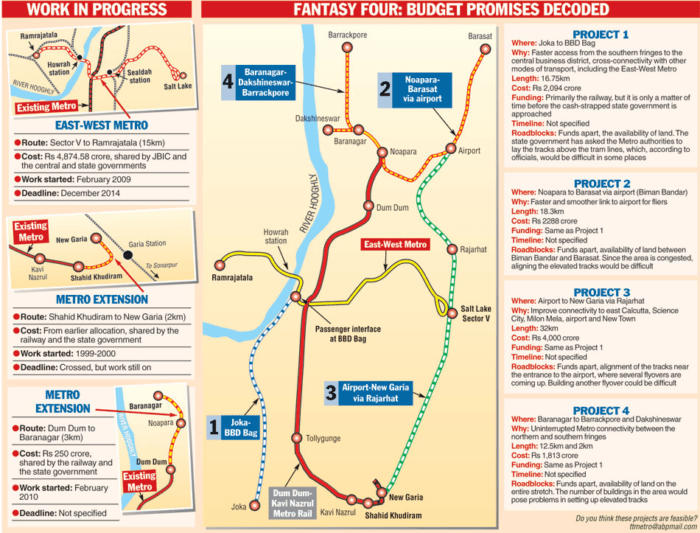 It's going to another decade for this to complete or maybe more. One of the toughest parts is to figure out the land for the Metro. Not only the KMRC will have to manage the local authorities, but also it's an old city. There are constructions under the land which may not ve available in the blueprints. So let's hope they deliver this with their best efforts, and it makes the life of citizens better.