Cast: Neil Nitin Mukesh, Deepika Padukone, Piyush Mishra, Kay KayMenon(Cameo), Manish Chaudhary
Director: Pradeep Sarkar
Producer: Yash Raj Films
My Rating: Two and Half of Five  (2.5/5)
My Verdict :
Guys, what happens when a script that is loosely based on a classic movie like 'On the Waterfront, is taken up by a director who boasts his first film as a cult classic like Parineeta and is backed by a production house as big as Yash Raj?  The movie should be special, right? Well, Lafangey Parindey is nothing of that sort. Although the movie is better than Sarkar's last venture "Laga Chunari Me Daag" but the poor storytelling is the biggest weakness of the movie. Sarkar is not sure what he wanted to cater to the audience. It is like a circus where all the gigs are good but being done simultaneously. End result is Mediocrity.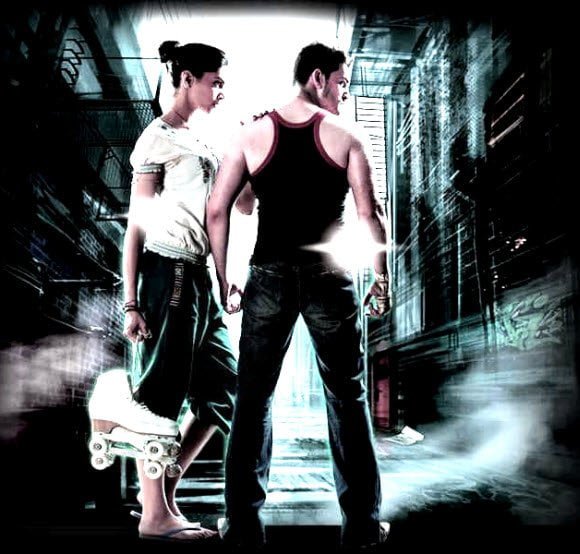 Resources :
Lafangey Parindey has an official website where you can play the Lafangey and Parindey Games, Download Wallpapers, ringtones. If you are on social network, you can follow them on Twitter and Facebook.
The Story
A film that could have done very well had the writers put in a thought that the audiences are no longer fooled by big banners. The film is about "One Shot NANDU"  (Neil) who is a fighter for a local Don Usmaan Bhai (Piyush Mishra) but for some odd reason he fights Blind folded and just like an ideal Hindi Film hero knocks down his opponent in one shot. BTW that's how he gets his name. Well one fine night he is summoned by Usmaan to assist Anna (Kay Kay Menon) to pull a job. Kay Kay kills the guys and then Nandu drives him away from the scene. But he commits an accident and runs off from the scene absolutely unaware whom did he run down. Later it turns out that Anna is dead and BTW the person he runs down is Pinki Palkar( Deepika Padukone), who lives in the same "Wadi" as he does. The blame of the accident goes on the dead Anna.
So Pinki who works at a mall and is a skate dancer and wants to win "India's Got Talent" loses her eyesight in the accident. As a considerate hero he helps her regain her confidence and teaches her 'HOW TO SEE', well I know it's dicey but he trains her with bell sounds and within a few weeks Pinki is all giggly again.
Now it's time to return the favour right. So now she teaches him how to Skate Dance and since her former dance partner wants to be partner no more Nandu decides to participate in the reality show with her. Guess what a police inspector (Manish Chaudhary) investigates the case of Pinki without authority and finds out that there was somebody else in the car along with Anna.
Meanwhile our hero is busy fighting on Friday Nights. Pinki makes him realize that he needs a job so he also works at a Disco as a bouncer and also dances at the reality show. Busy Dude. Also sort of Super human since he does all this simultaneously. Anyways what follows is not hard to guess. Pinki finds out about Nandu the Hit and run man. Nandu loses his fight for Pinki. They have a fall out. But then he helps her win the India's Got Talent Show and things get Mushy again.
There is a dialogue in the climax where Manish Chaudhary says" Achcha to ye Love Story hai". That's when the audience also realize that it's a love story and a mediocre one too.
Actors Performance :
In terms of performance Deepika Padukone steals the show. This is by far her Best Performance and boy she impresses. She is REALLY GOOD in the role of the blind Pinky Palkar. Neil is Ok. His urban looks and dialogue delivery make it hard to believe that he is a SLUMDOG FIGHTER. Piyush Mishra is good as always, though his role could have been made stronger. The biggest blunder is killing Kay Kay Menon in the first 20 minutes. A powerhouse of performance was wasted just like that.
Lafangey Parindey is not too bad but it's nothing special too. Acting is good but the direction is mediocre and the writing is lame. Overall, the movie is good in parts but fails as a whole.