The Festival of Lights, Diwali or Deepavali, will be celebrated across India on October 26 this year. Diwali is a festival of lights; people try to lighten up every corner of their home or vicinity. In case you are not an Indian or somehow you don't know about Diwali in that case you can read more about Diwali here.
Diyas (oil lamps) are an essential part of Diwali, Diwali is also a festival of giving and receiving Wishes and Gifts as well, earlier the greeting cards were sent using the snail mail service, nowadays the e-cards are much in trend, and are widely used for sending the Diwali Wishes to someone whom you can't personally visit to give the Wishes and Blessings. Here is a new way to send wishes to your loved ones on this auspicious occasion.
Forget sending the Greeting cards or the e-cards, this free service known as Festival of Lights, allows you to not only send your wishes in writing but also you can light up a virtual Diya in the home of your loved ones.
How to light a Virtual Diya with Diwali wishes at loved one's place –
Visit the home page of this service known as Festival of Lights.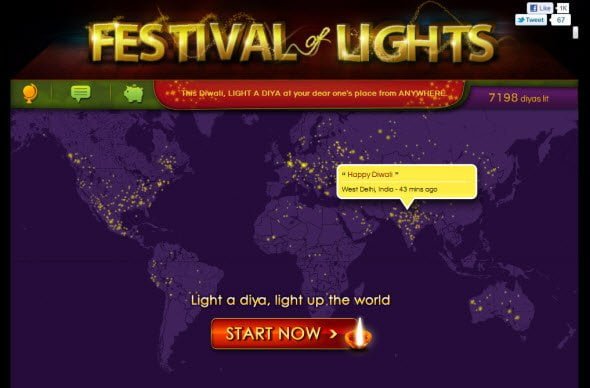 Click on the 'Start now' button, and move to next step. Here enter the address of your friend, family member, or relative, and search for the location on the map.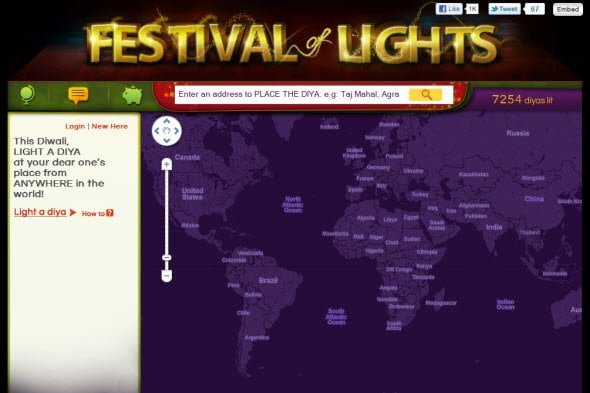 As soon as it searches for the location, you will see a 'Light a Diya now' button, click on it and login (you can either create an account using your email address or you can use the Facebook connect), once you are done with login thing, now you can see a Diya floating on the map somewhere near the location or may be exactly at the same location, if you want you can move the Diya using your mouse pointer to locate it on the exact location.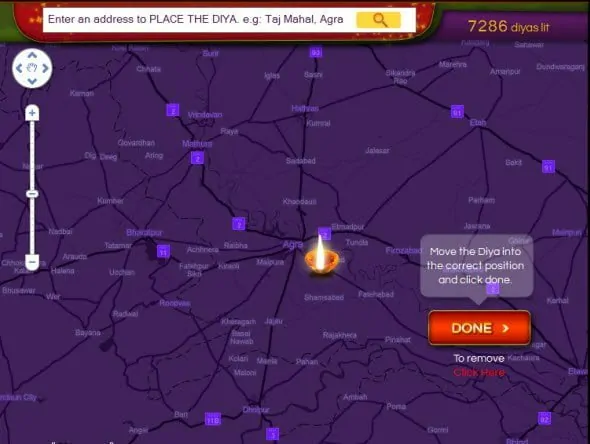 Now click on the Done button, you will be asked to enter a personal message, and later enter the email address of the recipient, and within no time an email will hit the recipient's inbox telling him/her that you have sent Diwali Wishes and have also lighted a Diya at their place.
Sounds interesting, isn't it? This definitely is a great new way to make your loved ones feel special on this auspicious occasion of Diwali probably when they are missing you like anything, so go ahead and light a Diya for your loved ones, and show them that you love them and care for them.
Have a Happy Diwali!!