Chhavi Rajawat – is the name of the Sarpanch of Soda (around 60Kms away from Jaipur), a village in Tonk district of Rajasthan.
Chhavi is an MBA, and has been a student of institutions like Rishi Valley, Bangalore and Lady Shri Ram College, Delhi, and has worked for 5 different companies before quitting her job and the corporate lifestyle to serve her native place.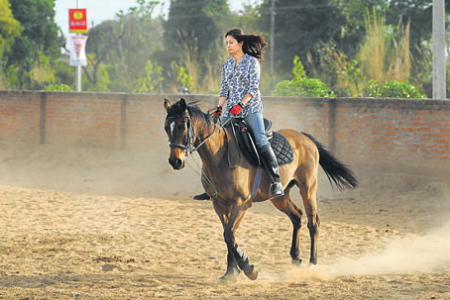 Chhavi can be spotted in Jeans and T-shirt in her village in meetings around Soda, and is addressed as 'Bai-sa' (a word in local language, used to address a lady respectfully). She also claims that her Business Management degree is helping her in taking care of her Village. She also runs a Riding Academy, and takes care of the hotel business of her family in Jaipur.
According to Chhavi, her priority list contains of –
To provide electricity and get proper roads built in Soda.
To solve the issue of high fluoride content in water in the Soda region.
To increase job opportunities in the village by involving NGOs.
It definitely takes a lot of courage to quit a corporate life, and pursue something of this sort and that too when service is the only aim, Hats-off to Chhavi.
No doubt, if you try surveying the people around you, you will find people who will love to quit their job to pursue a business of their own, I too belong to same category, but quitting a job to do an act of service is something very rare, even a handful of people who think on these lines, generally fail to take that step for several reasons.
Chhavi is a perfect live example of the fact that being born as human is the biggest reservation quota you can ever be privileged from.
Image Courtesy: The Times of India
The content of this article has been collected from Various sources online and TV shows.