There are many ways to start a business and earn your living, but when someone starts a business which is not just limited to making money, but also has a vision behind it, he/she definitely deserves a huge round of applaud.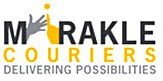 Here is a business which has been started with such a vision, a courier company in Mumbai, known as Mirakle Couriers, is a courier company with a difference as the company only employs deaf adults.
Mirakle Couriers claim to provide services within Mumbai, at competitive costs.

If you are thinking that why this company only employs deaf people, here is the answer –
"India has one of the highest deaf populations in the world. Due to strong stigma in the society there are virtually no job opportunities for this isolated population. Outdated vocations such as candle making have shunned this community; Mirakle Couriers wants to change this grim scenario. It wants to economically empower this community and make them more visible in the Indian society."
Service area for Mirakle Couriers is as follows –
Western Suburbs – From Churchgate to Borivali
Central Suburbs – From Victoria Terminus to Mulund
Harbour Line – From Victoria Terminus to Mankurd   (excluding Thane and Navi Mumbai)
So, if you are in Mumbai and you need a courier service within Mumbai, give this service a shot, at least once, it's not just a courier service, it is also a great way to help human kind. You can know more about this service @ Mirakle Couriers Webiste.