When is Navratri this year ?
2012 : Starting on 16th October and Ends on 24th October is Dussehra.
2010: This year Navratri is starting on 8th October and Dusherra will be celebrated on 17th October.
Navratri is celebrated mainly two times in the year once in the March or April, this is called as Chaitra navratri and  other one which is celebrated  in the September or October is called Sharadeeya Navratri.  It is  the 9 days festival which is celebrated almost every part of the country when  mother goddess is worshiped in the form of three forms i,e as goddess Saraswati, as Parvati and as Durga.Here is the list of 9 days according to the goddess worship.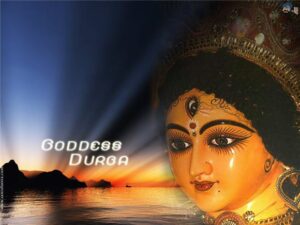 Navratri days and their meaning

First day : Ekaam  is dedicated to Goddess  Shailputri (daughter of Himalaya) .
Second day: Duj is dedicated to  Goddess Bramcharini (peaceful form of Durga) .
Third day : Tritiya is dedicated to  goddess Chandra ghanta (anger form of Durga)
Fourth day : Chaturthi is dedicated to goddess Kushmanda (happy form of Durga)
Fifth day : Panchmi is dedicated to  goddess Skand mata (blessing form of Durga)
Six day : Shasthi is dedicated to Goddess Katyayani(daughter form of Durga)
Seven day : Saptami  is dedicated to Goddess Kalratri (cruel and violent form of Durga)
Eight day : Astami is dedicated to Goddess Maha gauri (form of mata parvati and symbol of purity)
Ninth day : Navmi is dedicated to the goddess Siddhidatri(knowledge form of Durga)
These are the 9 forms of Goddess Durga and it is known as "NAVDURGA".On 10th  day, Dusherra is celebrated and on the same day, idols of Goddess are carried in a procession to the sea shore or the river banks for immersion. A large number of devotees take part in this procession on the last day of the festival and take blessings from Goddess for their wellness and peace in the society.
How is Durga Puja celebrated ?
The festival is celebrated in India  with great enthusiasm and excitement .  Every day of Durga Puja festival has different method of worshiping by offering various sweets, fruits, cloths and other material. People sing various 'Bhajans' (devotional songs) and offer prayers for the well being of their families and society. Many people celebrate Navrati by fasting nine days.
On 8th or 9th day the fast is broken by offering the prasad to the 9  young girls. In West bengal,  big idols of goddess Durga are set up in various pandals and people come to worship them.In Gujrat,People celebrate navrati by playing dandiyas.
If you love to put Navratri Wallpapers on your computer, grab it from here. May this festival of lights brings you a lot of happiness and success! Jai mata di..