Booking the tickets online for your train journey has become a common practice, people prefer booking their tickets online for the reason that it saves you from long queues, time is saved, etc. Overall to put across in simple words, it has become damn convenient to book your tickets online. However the only thing which bothered me most was taking the prints of these online tickets (eTickets), which was mandatory.
If by any chance you missed to take the printout of your eTicket, in such case when the Traveling Ticket Examiner (T.T.E.) asks for you ticket, you can tell him about your failure to get the printout of your eTicket, and later after presenting a valid ID proof, you can get a duplicate ticket issued by the T.T.E. after paying another Rs. 50.
But now Indian Railways has come up with a solution, a new portal has been launched by the Indian Railways, as published on the Press Information Bureau; this portal has following components –
Hosting the existing websites of Railway Board, all the Zonal Railways, Production Units onto the portal.
Creation of uniform Web address system of all the Railway Websites
Tracking facility for freight trains running and Parcels status by customers
Journey planner with user-friendly functionalities.
E-ticket functionality dedicated for normal passengers.
Facility to book retiring rooms for any station.
Mobile phone based ticket booking in which passenger need not print his/her ticket but carry the display ticket sent to his/her mobile phone through SMS.
Web and SMS based Complaints and Suggestions Management System for all Railway customers.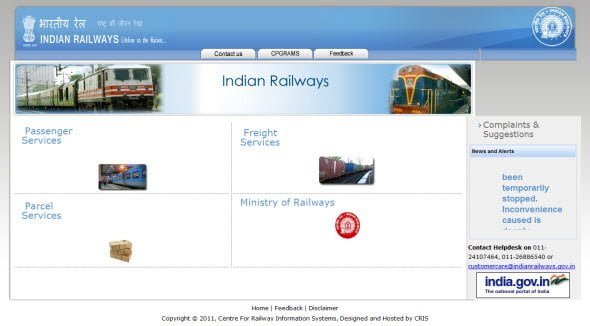 As of now, not all the facilities are fully available, like eTicketing isn't available as of now, but will soon be available. According to this Commercial Circular No.36 of 2011, following changes/facilities will be available for the customers of Indian Railways –
The new portal will allow the passengers to book their tickets online, and get the eTickets, later a printout can be taken, also the passengers can take the screenshot or the snapshot of the eTicket and when demanded by the Railway Officials, they can present this screenshot on their Laptops/Palmtops (this probably means you can show the screenshot on your Smartphone as well). This screenshot or snapshot of the ticket will be referred to as Virtual Reservation Message (VRM).
eTicket on Mobile Phone (mTicket), the mobile ticketing application can be downloaded to the  mobile phone from the IR Portal (this is probably the one which can be downloaded using the SMS sent on your mobile phone, one needs to enter his/her mobile phone number and the download URL is sent on the mobile phone in a SMS, you can download it from the www.irctc.co.in, scroll down, click on the 'Mobile Zone' choose an app), Applicable service charges for the booking of m-ticket would be at par with that for booking e-ticket on Indian Railway Web Portal. Once the transaction is complete, i.e. booking and payment formalities have been completed successfully, a SMS containing the ticket details will be sent to user which is referred to as Mobile Reservation Message (MRM). The cost of MRM from IR Web Portal shall be borne by Indian Railways. In case of any delivery failure renewed attempt would be made to re-send the MRM SMS. Railways will not be held responsible in any way for any technical errors that might occur due to any kind of error in Mobile network. This MRM, and any of the prescribed ID proofs in original, along with the passenger's name in the reservation chart will entitle a passenger to travel, in case of group of passengers travelling on same ticket, at least one of them should be able to present a proper ID when demanded by the officials.
Only individual users are allowed to use the new Indian Railways Portal for the ticket booking, any type of travel agents won't be at all permitted to use the portal.
The valid ID Proofs – Voter Photo identity card issued by Election Commission of India, Passport, PAN Card issued by Income Tax Department, Driving Licence issued by RTO, Photo identity card issued by Central/State Government, Student Identity Card with photograph issued by recognized School/ College for their student, Nationalised Bank Passbook with photograph, Credit Cards issued by Banks with laminated photograph.
ERS/ MRMNRM along with anyone of the eight prescribed ID proofs in original and the indication of the passenger(s) name(s) in the Reservation Chart will entitle the passenger (s) to travel.
The ERS/MRMNRM along with the ID proof in original would be verified by TTE with the name and PNR on the chart. If the passenger fails to produce/display ERS/MRMNRM due to any eventuality (loss, discharged mobile/laptop, etc) but has the prescribed original proof of identity, a penalty of Rs 50/- per ticket as applicable to such cases will be levied.
Mentioned above are the general rules, which we need as a common man in our day-today lives, for a better insight of the circular, you can see the official document here.
However there are few things which are still unanswered, here I put them across, in case you have a better insight on the same, do leave a comment and share the knowledge with us –
Every user gets a SMS on his/her mobile phone as a confirmation of the booked tickets (when booked via www.irctc.co.in), why isn't this SMS be considered as a MRM?
Official document says – "Individual users desirous of utilising the facility of booking E-Ticket on mobile phone, having requisite internet facility can do so by downloading the mobile ticketing application on the mobile phone from the IR Portal, using the URL sent in SMS. Service charges applicable for booking m-ticket would be at par with that for booking e-ticket on Indian Railway Web Portal" Does this refer to mobile ticketing application available on www.irctc.co.in or it refers to some other app which might probably appear on the new Indian Railways Portal.
Well, making this VRM and MRM a valid ticket is definitely a great step taken by the Indian Railways, this will not only save a user from taking printouts, but will also save the time of the passenger, it also is as good as taking a step towards a Greener World by saving on paper.