Charkha, is the Indian word for Spinning Wheel, it is a small tool, for spinning thread or yarn from natural or synthetic fibers, which has several versions which are generally named upon the type of wheel it uses. Charkha reminds us of Mahatma Gandhi, which was used by him to convey the message of Swadeshi, Self Employment and hence self-dependence.
The Khadi and Village Industries Commission (KVIC) is planning to introduce Solar Charkhas (Solar Powered Spinning Wheels). KVIC in collaboration with the Gandhigram Urja Vikas Sanstha, Amravati and the Mahatma Gandhi Institute of Rural Industrialisation, Wardha, has already developed the prototype of Solar Charkha. A Solar Charkha will have solar panels that trap solar energy and stores them in the connected battery. Price of one such Charkha is expected to be around Rs. 20,000.
As per the plan, the clothes spun from these Charkhas will be Green Clothes and will be marketed in India and abroad as well. This Charkha will not only make the process of producing fabrics easier (earlier the charkhas were full hand operated), but will also allow the Charkha Spinners to enhance their earning, i.e. from traditional Rs. 60 per day to Rs. 150 per day.
I tried searching on the way that how are they planning to sell of these Charkha, or what will be the line of action to implement these Solar Charkhas on mass level throughout India, so, we probably need to wait and watch but few pictures did came out at the MGRI ( Mahatma Gandhi Institute for Rural Industrialisation ) newsletter which you can try downloading it from here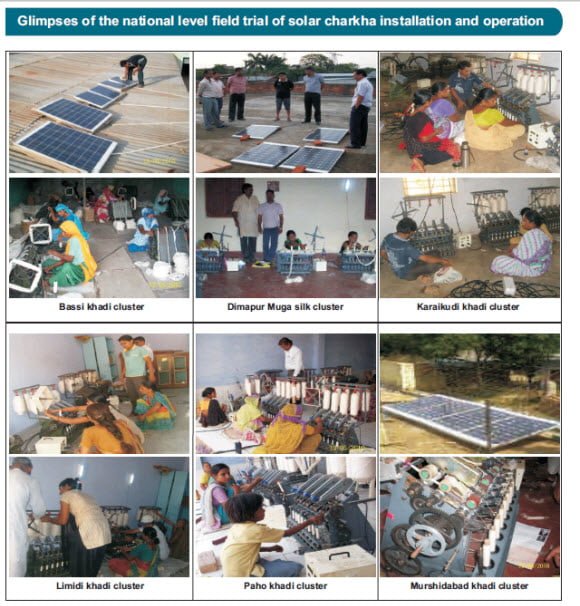 The concept sounds to be great for sure, Green Clothes makes a lot of sense in current times, secondly this will definitely improve the living standard of the Charkha Spinners.
However I found information according to which there is another Solar Charkha, which is approved by Central Silk Board (CSTRI), you can download the PDF file for this Charkha, which has some real good details about the Solar Charkha.