Cast: Dharamendra, Sunny Deol, Bobby Deol, Kulraj Randhava, Anupam Kher, Johnny Lever, Nafisa Ali.
Director: Samir Karnik
My Rating: 3.5/5
Official Website for Wallpapers, Trailers and other movie stuff : Yamla Pagla Deewana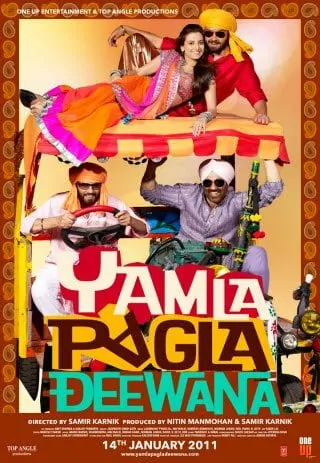 Breaking News, No brainers still work in Indian Cinema. YPD proves this and gives us a brilliant start to the year 2011. After No One Killed Jessica this goes on to become the second consecutive hit of the year.
The story is about an NRI Paramveer (Sunny Deol) who lives in Vancouver and wants to be re-united with his father ( Dharamendra) and younger brother (Bobby Deol). But those two are conmen in Benaras .   While Gajodhar( Bobby) is in love with Sahiba(Kulraj) and their love seems to be timeless, her brothers come and take her away. Paramveer then leads the plan to win her back which then leads us to the heartlands of Punjab.
This film is an absolute tribute to the Deol charisma and antics. Both Sunny and Bobby are good but it's the Old Wine Dharam who is still as funny as in a Hrishikesh Mukherji film. All three of the make the movie a fun ride which the viewer enjoys.
Kulraj Randhawa is beautiful and pleasant. Anupam Kher is good. Mukul Dev has some of the best One liners and Nafisa Ali is flawless in her short role.
All in all it is an age old story (read: Lost and Found formula) but the Deols have transformed it into a movie that is worth the watch and worth every penny the viewer pays.
Director Samir Karnik finally gets his act together after two disasters like Kyun Ho gaya na and Nanhe Jaisalmer.