Kolkata Police has implemented their website very well. Not only they have all the information documented well on their website, but they have also implemented a Citation Case fee or the Fine through Visa or MasterCard. It frees the fine payer from the hassle of paying the fees and visiting the Traffic Office to confirm with the slip. You can pay the Traffic fine and case Payments Online in Kolkata via NetBanking, Credit Cards, Wallet or UPI.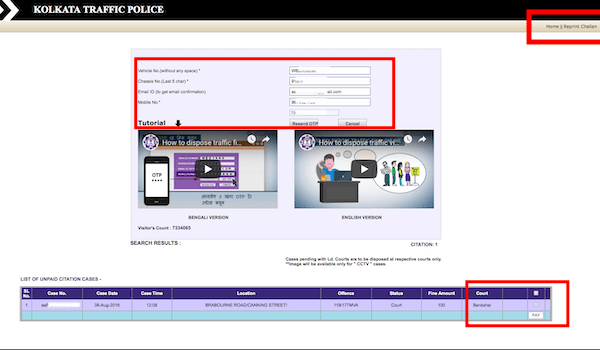 Pay Traffic Fine and Case Payments Online in Kolkata
Go to the Kolkata Traffic Police Official Website. There should be an option to "Make Online Payment." Click on it. It will take you to another website of Kolkata Police where you can make payment and reprint challans. To make a payment follow these steps:
EnterVehicle No, Chassis No, Email ID, and Mobile No.
You will receive an OTP which you can verify in the Confirm OTP box.
It will then list all the cases registered against the Vehicle no.
You have two option here

At the end of each listing, there is a checkbox. Select it.
Or If you want to select all, select the box which is on top of the list.

Next, click on the Pay button to go to the payment portal.
Fill in card details or use any other payment gateway.
Once the Payment process is complete, you will acknowledgment details which you should take a print out and keep it in your records.
If you received a case or fine in Howrah, you would have to make payment through Howrah Police Portal.
How to Reprint Challan for a case and fine in Kolkata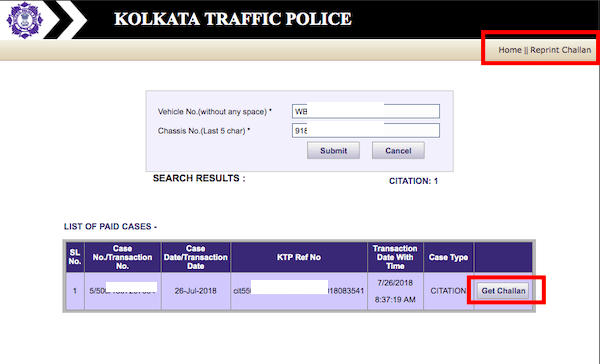 If you want to reprint the challan, visit the payment website of Kolkata Police. On the top right, look for the link which says Reprint Challan. Click on it. You will have to enter your card details, including Chassis number and verify. If you have already verified earlier, you should see the list of cases, and option to reprint the challan. Click on the button to get the challan. Here is how the challan will look like when you click on the button.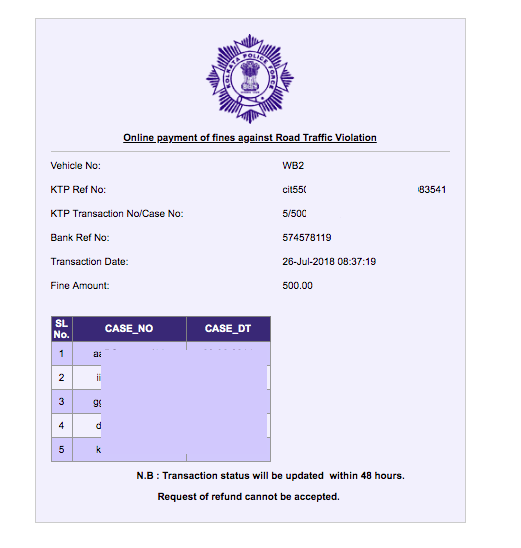 The receipt will include Case No, Case DT, KTP ref no, KTP Transaction No/Case No, Date, Fine amount, and vehicle no.
Kolkata Traffic Police doesn't have an app through which you can make payment. Many of the vehicles get Citation cases, and it is best to keep checking once in a while and pay the fines.