We all are now more or less aware of IMEI No, i.e., International Mobile Identity No of our mobile handset due to the stricter regulations of Govt. Here is an interesting fact to share about the IMEI No. Each mobile carries a unique IMEI which can be used to track your lost mobile anywhere in the world. The Indian government has launched the Central Equipment Identity Register (CEIR) portal, which can be used to complain about the lost mobile phone. In this post, we will share how you can block your lost or stolen mobile or phone using IMEI number in India.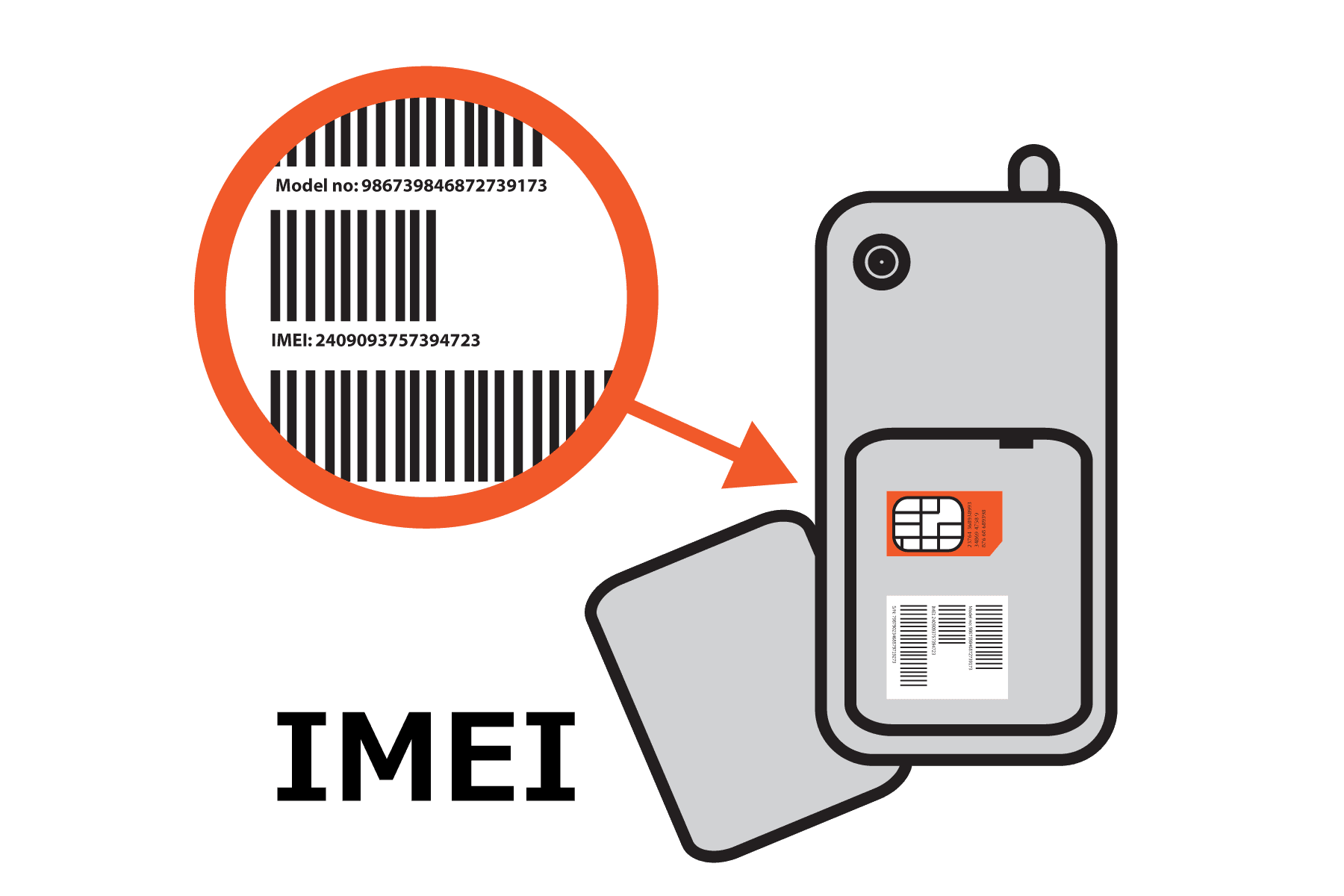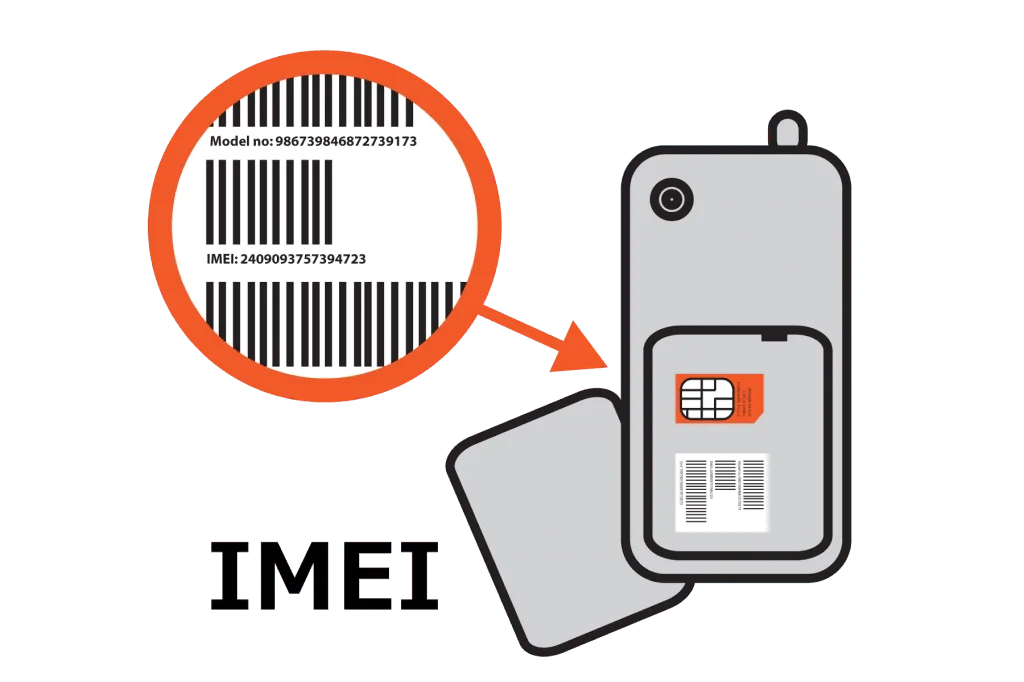 What is CEIR?
A Centralized Register provides maintenance of all IMEI records at a single location, single point of access. The government has built this to fight against the counterfeit mobile phone market and discourage mobile phone theft, protect consumer interest and facilitate law enforcement authorities for lawful interception,
DoT intends to implement the Central Equipment Identity Registry (CEIR) that connects to the IMEI database of all the mobile Operators. It will act as a central system for all network operators to share blacklisted mobile devices so that devices blacklisted in one network will not work on other networks even if the Subscriber Identity Module (SIM) card in the device is changed.
CEIR also aims to offer automatic text reminders to make sure users get the latest update about the status of their blocking/unblocking requests.
How to complain about the lost mobile phone in India using IMEI number
Find your IMEI number
Lodge an FIR for stolen Mobile
Block Lost or Stolen Device using IMEI
Note: The project has just started, and more telecom operators and states will be taken on board in the coming months.
1] Find your IMEI number
Dial *#06# from your mobile.
Your mobile shows a unique 15 digit no (it's a mix-match of alphanumeric digit code)
Note it down somewhere.
In case you haven't, check on the bill of the phone or the box of the phone for the IMEI number. Since most of the smartphones are dual SIM, you will need to note down IMEI 1 and IMEI 2, i.e., all the IMEI numbers.
2] Lodge an FIR for stolen Mobile
To block a lost/stolen device, the user has to report to local Police as per current policy. You may have to give the following details:
Your name
Address
Phone model & Make
Last used No
E-mail for communication
Missing or Lost date
IMEI No(s)
At this stage, you can request the police to block your phone. They can do it, but there is no option, you can use the online portal.
2] How to report a lost or stolen device through the portal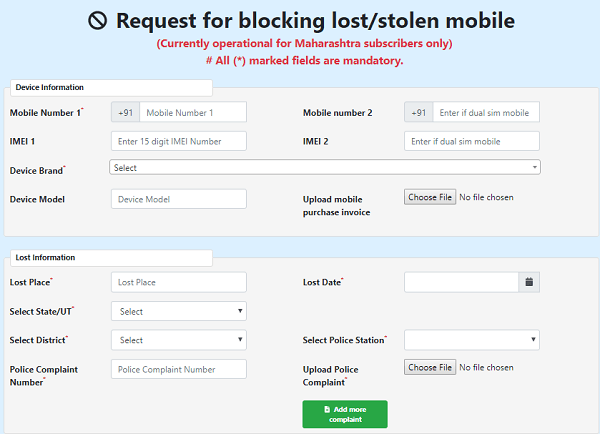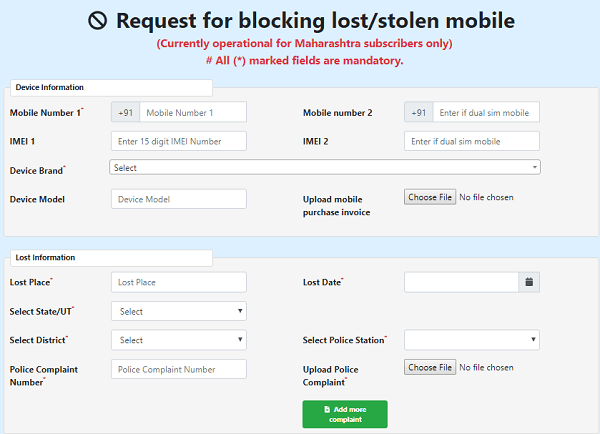 You can do it either by TSP's specified customer outlets or using their portal. Go to this Lost/report CEIR link. You need to fill in the following details.
About your phone:
Mobile No(s)
IMEI No(s)
Device Brand and Model
Upload bill or purchase invoice
Lost Information
Lost Place, Date, State, District
Police Station, Polic complaint number
and upload a scanned copy of the Police Complaint
Mobile Owner Personal Information
Name and address.
Identification document and number. You need to upload a copy.
Email ID and Phone number.
Use a mobile number where you can be called and contacted in case they find your phone. In the end, you will receive a Request ID. Make sure to keep it noted somewhere. When you find your phone, you will have to need it to unblock the phone's IMEI. You can also check the status using this link.
How to unblock a lost/stolen device?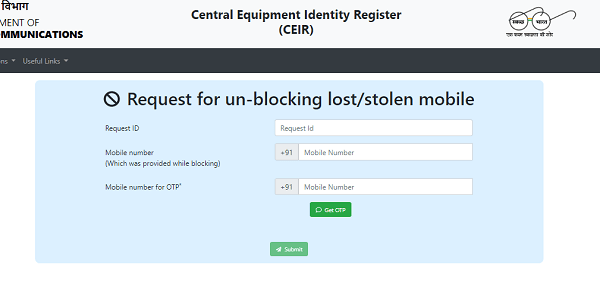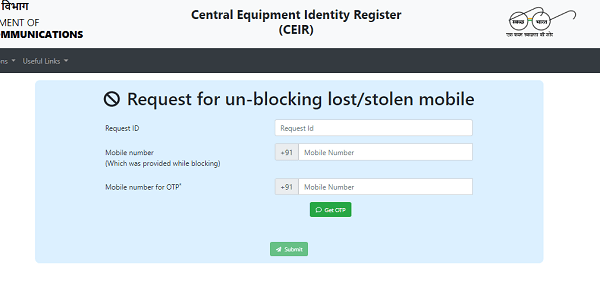 To unblock a lost/stolen device, the user has to report to local Police that it is found. After that user can unblock the phone from the portal.
Go to Request for Unblocking lost/stolen mobile phone portal.
Enter Request ID, Mobile number(which was provided for blocking) and mobile number which was given for contact.
It will send an OTP on that number, and once confirmed, the block will be removed, and you will be able to use the phone on any network.
We are delighted to see that the project has finally taken some shape. The process started a couple of years ago, and today this happened. If you ever try this portal, do share your experience.