Power cut in India is one of the most common problems faced by almost every country's people, whether it is Kashmir to Kanyakumari or Assam to Gujrat. Every state has the same problem. It gets worse during the summer. Uttar Pradesh is one of the worst-affected states. It generates 2,600-megawatt-hours and imports a further 3,700 but still has a shortage of about 1,800  during peak hours.
Reasons for a power cut:
There are many reasons which are responsible for the power cut. Some of them are as follows:
Voltage problem
Unplanned power cut
Major fault
Excess demand for electricity over the  supply
How can you complain against Power cut online?
Call Local Electricity Board
Electricity Call Center
Twitter
1] Call the Local Electricity Board
Most of the states have their Electric Supply Board online. You need to find for your State. For example, people of Kolkata, Calcutta Electric Supply Corporation (CESC) offer you to submit your complaints and suggestions by just clicking your mouse.  You need to open the CESC website, and you can register your complaint about the supply of the complaint, power theft, or any other complaints or suggestions by filing a form. However, you can also pay your bill online, i.e., e-billing.
2] Electricity Call Center
The government of India has set up Electricity Call Centers. These call centers will make sure to take related complaints and provide efficient, assured, and timely services to the customers. These call centers work round the clock to receive customer complaints through several channels such as telephone, fax, email, etc. The telephone number 1912 is allotted explicitly to Electricity Call Centers for handling power supply related complaints.
The status of the complaint is periodically tracked and updated.
The customer can know the status of the complaints registered by contacting the call center personnel.
In case the complaint is not resolved within a specified time limit, the complaint is escalated to the notice of higher authorities for expediting the resolution process.
Electricity Call Centers are now available in the states of Tamil Nadu, Andhra Pradesh, and Karnataka. In the states such as Rajasthan, Delhi, Madhya Pradesh, etc. the call centers are at the various stages of implementation.
3] Active on Twitter? Try PowerCuts.in
Powercuts.in is an independent initiative by some folks on Twitter who have created a complete database of Powercuts happening all around in India.  If you are active on Twitter, you can use
A tweet with  #powercutindia or #PowerCutsIN or #PowercutsIndia and include location, planned or unplanned details.
Tweet again when the power comes back with the same hashtag but add #back along with it.
You can also use this form which gives you the option of finding your location on Map Also.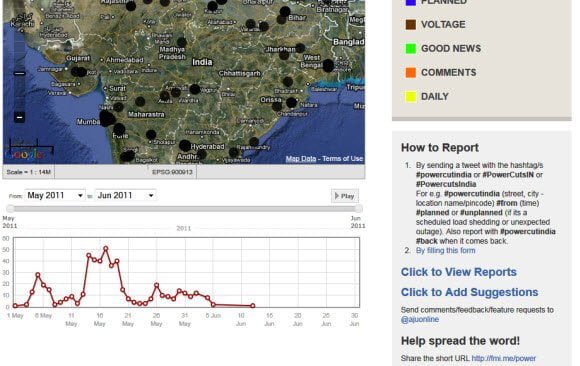 What else this service provides :
A graph that helps you find the frequency can also be used by government officials.
Maps which helps to pinpoint location accurately.
Power Cut Alerts
How can we help the Electric board to reduce the power cut?
We can also help the electric board minimize the power cut by simply adapting these points. The power cut problem arises because the electricity demand is more than its production. So now it's our duty to save electricity and use it without wasting it.
Switch off the light and fans if you don't need them.
Switch off the washing machine when the clothes are dry enough – over-drying makes them feel harsh and wastes electricity.
Use fluorescent tubes. They use about a quarter of the electricity used by ordinary lights.
Don't leave heating or cooling appliances on when rooms are unoccupied.